10 Awesome Dance Aerobics Scenes from '80s Movies
Catch Footloose during IFC's '80s Weekend July 29-31st.
Posted by Emmy Potter on
Photo Credit: Mary Evans/Ronald Grant/Everett Collection
Anyone who grew up in the 1980s remembers Jane Fonda's workout videos, which featured the Academy Award-winning actress in leotards and leg-warmers leading viewers through a series of aerobic exercises. Coupled with films like Flashdance and Footloose, the Jane Fonda Workout helped usher in a rad aerobics and dance craze that lasted throughout the decade and influenced everything from fashion to music to film. To celebrate IFC's '80s Weekend, we decided to share a few of our favorite dance and aerobics scenes from '80s films. Throw on your favorite leg-warmers and get ready to break a sweat!
1. Flashdance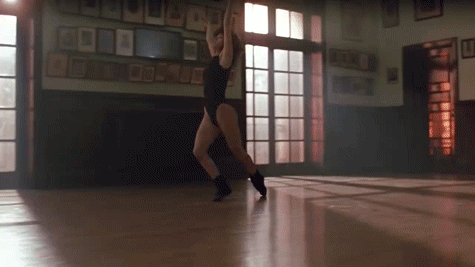 Paramount Pictures and PolyGram
Has there ever been a better film about a welder-by-day-dancer-by-night? Alex Owens (Jennifer Beals) dreams of being a serious dancer at the Pittsburg Dance & Repertory Company, but alas, she has no formal training beyond her frenzied aerobics sessions set to "Maniac" and her job dancing at Mawby's Bar. Though Flashdance features quite a few seriously impressive dance numbers ("Manhunt" comes to mind thanks to Cynthia Rhodes' acrobatics and insane amount of body glitter), the best is still Alex's iconic audition set to Irene Cara's hit song "Flashdance…What a Feeling" complete with leaps, flips, break dancing (!), and some seriously big hair.
---
2. Fame
MGM and United Artists
These days, Lin-Manuel Miranda and the cast of Hamilton cause traffic jams daily on Broadway, but back in 1980, the only performers stopping traffic were the fictional students at the New York High School of Performing Arts. When aspiring composer Bruno refuses to play his music publicly, his taxi driver father blasts it out to everyone on 46th St from the speakers of his cab, causing the leotard-clad students to wildly leap on top of cars and dance throughout the street. Well, that's ONE way to get people to "remember your name."
---
3. Breakin' 2: Electric Boogaloo

The Cannon Group and TriStar Pictures
Possibly the most unnecessary of all unnecessary sequels and the inspiration for an enduring pop culture cliché, Breakin 2: Electric Boogaloo may be short on plot and character development, but if you're watching it for those things, you're doing it wrong. It's the dancing and extremely dated hip hop outfits (okay and an appearance by rapper-turned-Law & Order: SVU detective Ice-T) that matter, and in these areas, Breakin' 2 really delivers.
Whether it's a gang dance fight with nunchucks (!), popping and locking on the ceiling, or donning berets and harem pants for a celebratory final routine, Breakin' 2 is actually a pretty solid (dare we say…ELECTRIC?) dance flick in the vein of an overly-long episode of So You Think You Can Dance that is actually supposed to be about saving a community center from bulldozers
---
4. Perfect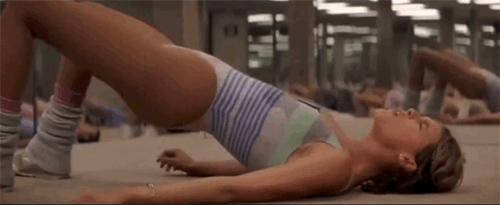 Columbia Pictures
Before there was Tinder, apparently aerobics classes were the way people hooked up in the '80s, at least according to the plot of the totally inane, guilty pleasure Perfect. While in town working on a story about drug dealers, Rolling Stone journalist Adam (John Travolta) begins investigating the singles' scene at the L.A. gym where Jessie (Jamie Lee Curtis) is an aerobics instructor. A lot of manic jumping, hip gyrations, and sweaty pelvic thrusts later, is it any wonder Adam and Jessie wind up finding romance? Also, the workout actually ain't bad either. High-cut leotard is totally optional.
---
5. White Nights

Columbia Pictures
If you can look past the implausibility of Gregory Hines' character willingly defecting to Soviet Russia for tap dancing jobs, White Nights is actually a great dance-thriller, which is a seriously underutilized film genre in our opinion. And because this is the '80s, the best way for Hines and Mikhail Baryshnikov's character to distract their Soviet captors is obviously by performing a smooth jazz/karate-inspired dance choreographed by Twyla Tharp. Though ballet superstar Baryshnikov and tap legend Hines couldn't be more different apart, together they make a pretty dynamic duo. The song may be called "Prove Me Wrong," but this is one pairing that feels oh-so-right.
---
6. Footloose

Paramount Pictures
Yeah, everyone FINALLY "cuts loose" at the end of this classic flick about a town where dancing is banned, but we're partial to Ren's angry meltdown in an empty warehouse. When just driving to the middle of nowhere in your yellow VW bug, smoking a cigarette, and drinking don't calm your adolescent angst, why not just put on a cassette tape and run, swing, jump, kick, and flip your way through a dangerous abandoned warehouse instead? It's a bit like watching a manic Olympic gymnastics routine, but it's hard not to love Kevin Bacon giving it his all. (Click here to see all airings of Footloose on IFC.)
---
7. Dirty Dancing
Lionsgate
Pretty much everyone had the time of their lives watching Frances "Baby" Houseman (Jennifer Grey) and Johnny Castle (Patrick Swayze) dance and romance in the Catskills all through the summer of '63. In the grand '80s movie tradition of dancing for your rights (see also: Footloose), Johnny makes a big entrance at the end-of-summer show as a protest for being unfairly fired, pulling Baby firmly out of the corner and onto the floor for a sexy ballroom number complete with that iconic over-the-head lift. The dancing may be "dirty," but really, it's just good, clean fun.
---
8. Girls Just Want to Have Fun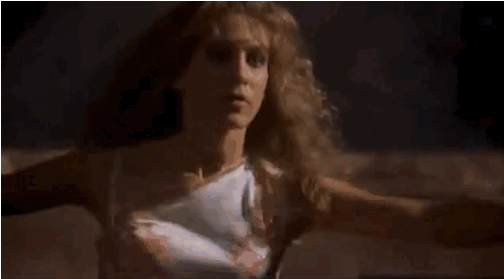 New World Pictures
Before she was kicking up her heels as Carrie Bradshaw, Sarah Jessica Parker was just a Catholic school girl named Janey with a dream of dancing on TV in Chicago. In yet another '80s movie about dads not being cool with their daughters dancing (ahem, see also Footloose, Dirty Dancing), Janey's conservative military father forbids her from competing with her dreamy partner Jeff (Lee Montgomery) for a spot on Dance TV. The two compete anyway with a seriously athletic routine full of tumbling, lifts, and spins while Janey's dad watches backstage and comes to his senses about the whole thing. If only we could say the same thing about everyone's hilariously bad '80s outfits.
---
9. Risky Business

Warner Bros.
Who hasn't gotten a little too drunk and danced around their living room in just their underwear? High school senior Joel does just that (and much, MUCH more) during a parent-free weekend at home. With a single iconic slide in socks, tighty-whiteys, a button-down, and Ray-Bans to the opening strains of "Old Time Rock and Roll," Tom Cruise instantly became a full-fledged movie star and inspired frat boy Halloween costumes for years to come. If the whole "risky business" brothel idea doesn't work out, maybe Joel has a future in show business instead.
---
10. Heavenly Bodies
This "dancercize" cult classic was co-produced by Playboy, which explains a lot about the overabundance of exercise and sex scenes and the wooden dialogue. However, the choreography and soundtrack are totally killer, as is lead actress/dancer Cynthia Dale who effortlessly high kicks and jumps her way through every routine. Heavenly Bodies may technically be a B-movie, but its dancers and dance numbers are pretty A-worthy.