Ranking the Best and Worst '80s Movie Fashions
Get retro with The Breakfast Club and Footloose during IFC's '80s Weekend.
Posted by Emily Menez on
Photo Credit: Universal Pictures
In the era of big hair, there were some big fashion mistakes. In honor of the non-stop movie awesomeness coming your way during IFC's '80s Weekend, we've rated your favorite '80s movie characters based off a trusty Reaganomics Scale. Here's how we're scoring the duds worn by characters from The Breakfast Club, Back to the Future and more on a scale of one to five Ronnies:
Awesome!
Rad!  
Tubular! 
Bogus! 
Gag me with a spoon! 
As Doc Brown would say, we've gotta go back… to the '80s!
10. Chevy Chase, National Lampoon's Vacation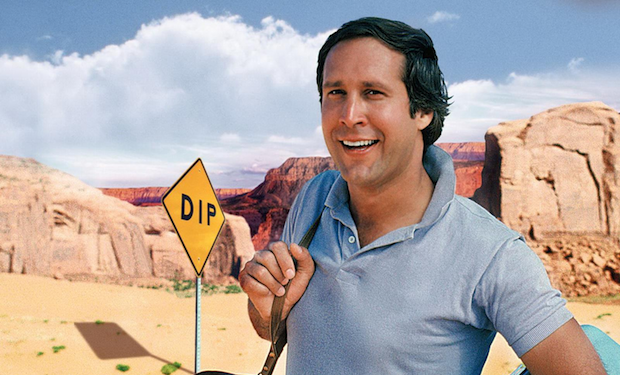 Warner Bros.
Clark Griswold is a lot of things: A well-meaning family man, a slightly deranged Wally World enthusiast and a pretty solid dresser. Sure, his dad-attire is a little dorky, but what dad attire isn't? Overall, Griswold's look still make sense in 2016. And for that we give him one enthusiastic Marty Moose chuckle.
Reagan-meter: Rad!

Click here to see all airings of National Lampoon's Vacation on IFC.
---
9. Jamie Lee Curtis, A Fish Called Wanda

MGM
Witty, scheming Wanda can't pick a lane when it comes to fashion. This pink fuzzy sweater is the worst of her choices.
Reagan-meter: Gag me with a spoon!

---
8. Kevin Bacon, Footloose

Paramount Pictures
For his classic abandoned warehouse dance sequence, Kevin Bacon wears the blandest ensemble possible: a plain sweatshirt and jeans. The dirty duds made sense for his portrayal of Ren McCormack, an angsty teen with something to prove. However, his style does not inspire us to cut loose.
Reagan-meter: Gag me with a spoon!

However, later on he rocks a sweet tux to the prom:

Paramount Pictures
For that look, Ren scores much higher. This is our time to dance!
Reagan-meter: Tubular!

Click here to see all airings of Footloose on IFC.
---
7. Jennifer Connelly, Labyrinth

TriStar Pictures
We love how brave Sarah Williams is amid creepy Muppets and David Bowie's epic Goblin King hair. However, her fashion choices are as confusing as the labyrinth itself. Another victim of the vest-crime, Sarah would've been better off to lose it and stick to the basic pieces underneath.
Reagan-Meter: Bogus!

Much better is the dress she wears during the ballroom scene. If you can ignore the fact that Sarah's a teenager being seduced by a grown-up, it's a pretty stylish and timeless look.

TriStar Pictures
Reagan-Meter: Rad! 

---
6. Jon Cryer, Pretty in Pink

Paramount Pictures
Duckie's clothing reflects his off-beat sense of humor and (unearned but still endearing) confident air. With the layers of color, fedora and glasses, he looks like he belongs more in Williamsburg, Brooklyn circa 2016 than 1986.
Reagan-Meter: Tubular!

---
5. Corey Feldman, The Lost Boys

Warner Bros.
Possibly the coolest adolescent vampire hunter on the planet, Edgar Frog ain't afraid of nothing. His camo shirt and red headband are a bit Rambo Jr., but Feldman's youthful intensity makes it work.
Reagan-Meter: Tubular! 

---
4. Melanie Griffith, Working Girl

20th Century Fox
Mixing power suits with big hair and the occasional fancy gown for formal events, Melanie Griffith's Tess McGill defined '80s workplace attire. Bonus points for tossing the heels and opting for comfortable tennis shoes.
Reagan-Meter: Rad! 

---
3. Michael J. Fox, Back to the Future

Universal Pictures
Michael J. Fox can do no harm, but his outfits in BTTF are not so McFly. The orange vest reads like a life preserver drowning in an ocean of denim. Great Scott, this is one unforgivable outfit.
Reagan-meter: Bogus! 

---
2. Winona Ryder, Heathers
Mixing business casual and country club chic, Winona and the rest of the Heathers created a look that is still a favorite Halloween costume theme.
Reagan-meter: Awesome! 

---
1. Molly Ringwald,  The Breakfast Club

Universal Pictures
Dubbed "The Princess" of The Breakfast Club, Claire rocks a stylish pink blouse and brown wraparound skirt with matching boots. We dig her poised ensemble and agree that she is fashion royalty.
Reagan-Meter: Awesome!