10 Things You Didn't Know About Wet Hot American Summer
Go back to camp with Wet Hot American Summer this month on IFC.
Posted by Amber Petty on
Photo Credit: Universal Studios/Everett Collection
It's been 15 years since Wet Hot American Summer graced American cinema and basically changed comedy. Since then, almost everyone's become a star and the film has become an underground favorite. Not too shabby for a movie with a talking can of vegetables. As you revisit Wet Hot American Summer on IFC this month, here are some facts you didn't know about the alt-comedy cult classic.
1. Critics Hated It

Universal
Despite going to Sundance, no one picked up Wet Hot American Summer for distribution and the paltry deal the filmmakers eventually got only had the film showed on 30 screens nationwide. The critics did not help matters. Most cult favorites have a couple of bad reviews, but Wet Hot was called "a model of how not to make anything" and the Washington Post wrote, "This is supposed to be funny? It was so depressing I almost started to cry." The late Ebert wrote his scathing review as a parody of the summer camp standard "Hello Mudda, Hello Fadda." Though a parody of an already 40 year old novelty song isn't the best way to criticize something for being unfunny, the critics' hatred was real and halted any success the film could have had in theaters.
---
2. It Launched Bradley Cooper and Elizabeth Banks

Universal
Despite the tiny opening, Wet Hot became a huge cult hit on DVD and helped to launch several careers. Elizabeth Banks had only had a bit part in Shaft and a role in Surrender Dorothy, a film sadly with nothing to do with The Wizard of Oz and lots to do with heroin. Bradley Cooper had just finished school at the Actor's Studio and had to miss his graduation because he was on set. Hopefully he enjoyed making out with Michael Ian Black more than hearing James Lipton drone on at a commencement ceremony.
---
3. Even the Can of Vegetables is Famous

Universal
The can of mixed vegetables (the role is officially credited as can of mixed vegetables) was voiced by H. Jon Benjamin. If the voice sounds familiar, it's because Benjamin is a voiceover superstar. Currently, he stars as the voice of Sterling Archer in Archer and Bob Belcher in Bob's Burgers, plus many other roles.
---
4. It Was Filmed in a Real Life Camp

Universal
Camp Firewood wasn't a set — it was a real summer camp in Pennsylvania called Camp Towanda. And the cast didn't just film there. David Wain, Michael Showalter, Janeane Garofalo and the rest of the Wet Hot gang all lived in the camp for the whole month of filming. Bonded by the nasty weather, the cast got back to their childlike roots and constantly partied. According to Amy Poehler, "All we would do all day is talk about what we were going to drink and smoke at night. All. Day. Long."
---
5. Wet Hot was Wet and Cold, All of the Time

Wet Hot American Summer
Though the cast got along famously, the shoot was not easy. Filmed in May, the crew expected warm weather and instead got constant rain. Though reports vary, it rained between 21 to 24 out of 28 days of shooting and it was always cold. Not easy when half of your scenes are outdoors and all the costumes are either cut off jean shorts or bikinis.
---
6. Hank Azaria Went to Camp Towanda

Universal
During filming, Janeane Garofalo saw a bunk plaque inscribed with the name "Hank Azaria." It turns out Azaria, known for his voices on The Simpsons and many other roles (like IFC's upcoming comedy series Brockmire) went to the real life Camp Towanda from ages 6-15. Garofalo honored his time there by adding his last name to her roll call list in the cafeteria scene.
---
7. The Original Cut Had More Christopher Meloni Screaming
In a couple of short cut scenes, Gene (Christopher Meloni) screams at a camper to just eat her corn. It makes sense why it was cut — the scenes are short and not important to the story. But now everyone can see the glory of Christopher Meloni screaming at a vegan.
---
8. The Crashing the Van into a Tree Scene Actually Happened
A lot of the script was based on David Wain's experiences at a summer camp in Maine. The scene where Victor is driving the van back to camp in order to make out with Abby played out exactly the same way in real life. As a camp counselor, Wain was so excited to make out, he hurriedly drove the van back to the main camp ground and wound up crashing into a tree. Hopefully Wain was singing "Danny's Song" as sweetly as Ken Marino at the time of the crash.
---
9. The Original Script Had More Murder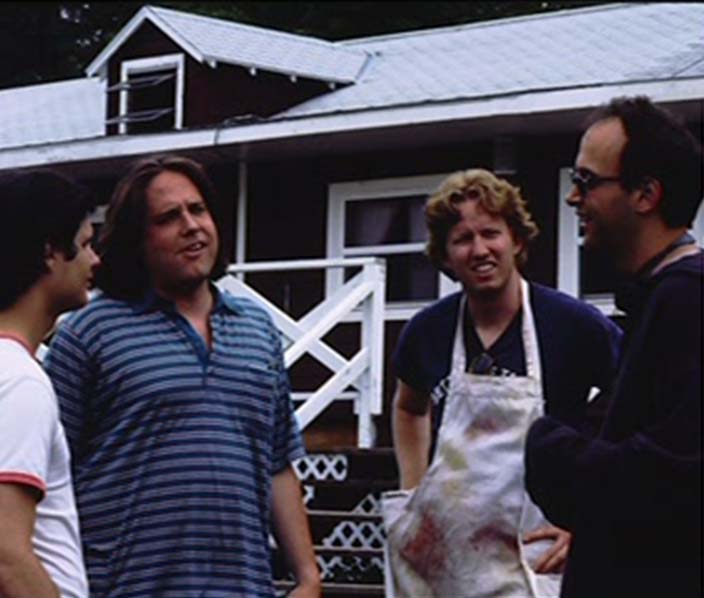 Universal
In the film, Andy throws the swim buddies of the kids that drowned into the forest to cover up his crime. Though a dark concept, the scene is played super goofy and light. In the original script, Andy would take the kids to the woods and shoot them in the head. It was so brutal, David Wain's dad said he would disown him if it was kept in the film.
---
10. There's a Documentary, Prequel and Sequel to the Film
Hurricane of Fun is a documentary compiled from hours of behind the scenes footage shot in the spring of 2001. You see the cast living in crappy bunk beds, drinking and playing a mysterious game called SNAPS. Last year, Netflix released an eight episode prequel, Wet Hot American Summer: The First Day of Camp, and has just ordered a sequel, 10 Years Later. The sequel should arrive in 2017, when we'll see if the grown up counselors made it their beeswax to show up for a reunion.