The Weirdest Jaws Merchandise Ever Made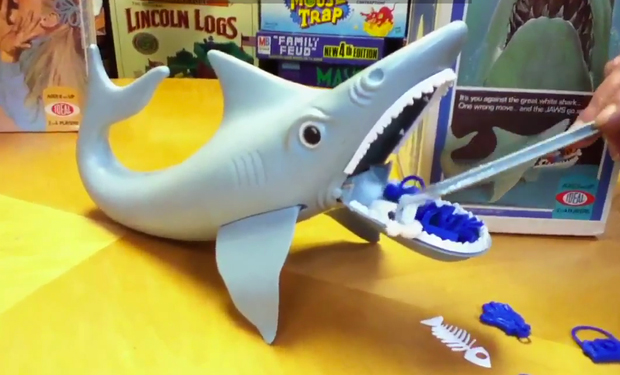 Posted by IFC on
By Luke McKinney
Jaws starred a great white shark but promoted a far more terrifying hunger. As one of the first major motion picture merchandising pushes, it unleashed a corporate monster which could consume the entire planet and then try to sell it branded toilet paper.
The poor shark was only obeying its instincts — the merchandising industry sees the entire human race as a menu. Which is how we ended up with Scarlett Johansson wearing a catsuit on Slurpee cups. Now its appetite is undead. The 40th anniversary of Jaws has launched more doomed attempts at shark-based profit than Amity Island tourism. Which is why we're looking over the history of hilariously bad Jaws cash-ins.
1. Shark Jaws Video Game
Atari's unlicensed Jaws knock-off video game came out around the time of the movie and wrote the word "Shark" so small on the arcade cabinet that scientists would later use it to prove the existence of the neutrino.  It was such a blatant ripoff that Atari founded "Horror Games," a copyright lawsuit crumple-zone company which never made anything else and existed only to take the hit if Universal Studios ever sued. You couldn't rip someone off more obviously without scalping them to get the DNA for your cloning tanks.
This game was a master class in how to play chicken with the entire concept of intellectual property theft while using a much scarier animal. Most movie adaptations change the plot to make the player more powerful. This game didn't do any of that. It clearly understood the ecosystem of the Jaws universe: you're a scuba diver hunting small fish, and you have to avoid the shark because it will absolutely kill you. In this reality's food chain, humanity was right in the middle like the filling in the shark's sandwich.
In what would now be a masterful inversion of video game expectations, but at the time was just stupid, there was no way to actually defeat the shark. It was bigger than you. It could kill you. Keep away from that thing that can kill you. It was like the makers had never even played a video game before. Which, at the time, was actually true of most people cashing in on the industry. And would sadly remain true for most of the developers ever to make movie tie-in games.
---
2. Jaws Beach Towel
There's never been clearer evidence that advertising executives are no longer human, but rather a sub-species of chameleon which infiltrated our society by copying us and now survive by copying everything else. It's true that Jaws featured a lot of beach imagery. But it was never really pushed as a positive thing. Pretty much the entire plot was about how much a day at the beach could suddenly suck, bite, then roll its eyes while it threshed you into pork-fetti.
This cloth is made entirely of natural warning signs. A giant white shark, not to mention that the towel looks like it's been soaked in terror urine even when it's brand new. Possibly to save you embarrassment when you do the same thing yourself.
---
3. Jaws Shot Glass
It's actually impressive to find a new way of negatively associating Jaws with liquids. It's the Soviet Russia of suck: not only is it bad when you go into the water, but now it's bad when fluids go into you! Because Jaws is so much about alcoholism that if they hadn't exploded the shark, the subtext would've pickled it.
Quint is clearly a functional alcoholic, and Brody is to wine bottles as Jaws is to bikinis: violently consuming everything they contain. He drinks like the ocean was just a distraction from his lifelong battle to destroy fermented beverages all by himself.
---
4. Jaws Paddle Ball
An idea isn't automatically bad just because it's ridiculous and exploitative. Even when the word "idea" is giving too much credit to an advertising executive who clearly applied Jaws' face to every single thing in the universe. But their noble sacrifice gave us this bit of bouncing madness.
The fine folks at Lost Entertainment brought the most delightfully bloodthirsty toy we've ever seen to our attention. The shark-shaped paddle makes no mistake about its diet, its blood-rimmed mouth a more scarily insane combination of childish entertainment and murderous frenzy than the Joker's lipstick. The only problem with this toy can't be blamed on the designers, but on uncooperative laws of physics, which insisted that the bouncing ball be spherical instead of a rubberized swimmer continually drawn to the shark's hungry maw.
---
5. Matchbox Jaws Bus
Most blatant cash-ins paste the official logo on unrelated products and call it a day. Matchbox made the effort to take even more piss. They pasted the movie onto entirely unrelated products. Unless there really was a meta-bus of extremely poorly advised tourists arriving to Amity Island in the background of the first movie.
If you're making a vehicle for Jaws and you end up with a bus you've screwed up in ways even a shark couldn't manage. You've screwed up past physics, because you've built a vehicle for entirely the wrong state of matter. Jaws = water based travel. This bus suggests that the shark is going to stalk a group of seniors on their way to Atlantic City.
---
6. Cool Story, Chief Brody T-Shirt
Many of Jaws' merchandising mistakes are old, but the Internet unleashed the worst combination of sharks and technology. I'd rather meet one with a laser beam on its frikkin' head, because that would imply somebody made a genuine effort. And it would still be a less painfully dated reference.
"Cool Story, Chief Brody" proves that no one involved in this shirt even said the words out loud. Because if you must combine Jaws and one of the most obnoxious memes ever spawned, at least "Cool Story Brody" would fit the original rhythm. The dude- culture prosody (brosody?) isn't smashed by the insertion of the word "chief" into a four syllable sentence.
---
7. Jaws Movie Jigsaw
This jigsaw puzzle's decision to stick to the poster is pretty intelligent. Sure, the iconic simplicity of the shot becomes an endless iteration of boredom as you sieve through hundreds of pure white and blue tiles, but it's still a better idea than looking at a movie still.
But it's still six square feet of mostly identical jigsaw pieces. They've chosen the only assembly pattern in existence where blowing it up to poster size doesn't help. Maybe if the great white was hunting Waldo, but here it's less an entertaining puzzle than an attempt to sell Zen meditation in five hundred pieces. When a jigsaw box has to advertise "fully interlocking pieces," that's how they admit "We know you think we're total idiots for doing this, but there's at least one aspect of making a jigsaw we didn't screw up."
---
8. Jaws Plushy with Sound
A cuddly toy playing the most recognizable score in pop-cultural history. The only problem is that the toy is too small to contain an entire tuba. But it's still brilliant. The instant a child works out this toy can eat My Little Ponies will be the first instant of infinitely regurgitated entertainment. And giving this to an unattended child is the best meta-movie use of cinematic themes in real life. When you hear the encroaching alternating notes, you know that something dangerous and hungry is approaching. And they're holding a cool cuddly shark.
---
9. The Game of Jaws
Many kids of the '70s probably remember this officially licensed game from Ideal Toys. And they also probably have the mental and physical scars to prove it.
Basically a variation on Operation where the toy literally bites you, the object of The Game of Jaws was to remove various items (a gun, an anchor, a glove that we can only assume contains a bloody hand) from the plastic shark's mouth before its jaws snapped shut. And that's about it. The formula was so effective, Ideal recycled it for several games including the incredibly creepy Sharky's Dinner, the box art for which suggests that sharks have suddenly acquired the ability to breathe on land and enjoy a nice dinner at a seafood restaurant.
And in a bit of meta merchandising, Ideal also recycled the idea for a game based on the Jaws knock-off Alligator.
---
10. Inflatable Jaws
While this item is little more than a harmless inflatable Jaws pool toy, the box art suggests that the young maniac pictured is commanding his shark buddy to devour his little sister. Float this baby in the ocean and watch how fast the lifeguard clears the beach.