Why Jurassic World Doesn't Deserve Claire Dearing (Or Her High Heels)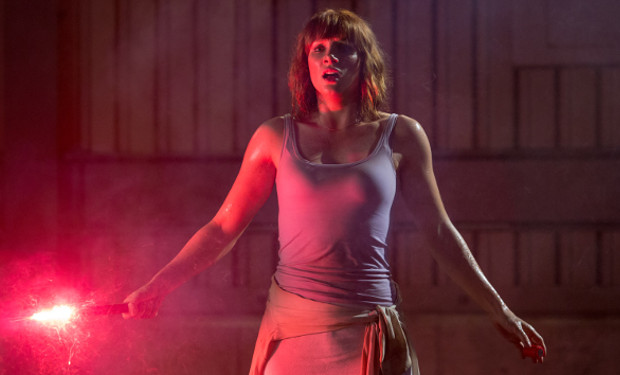 Posted by Lindsay Ellis on
[Note: This article contains spoilers for Jurassic World. You've been warned…]
Given that initial reports about the plot of the fourth entry to the Jurassic Park franchise involved dinosaur-human hybrids or alien ninja turtles or cyborgs or whatever, I met most news regarding Jurassic World with an uncomfortable side-eye. It was when the studio started releasing teaser clips of the film on YouTube, however, that the "uh oh" really began to take shape, but not the shape I expected.
Wow. Our Hero is a douche.
Fifteen seconds into the clip he's taken a page out of the 1963 edition of Hack Screenwriter's Digest and turned her business-related comment into sexual innuendo. "That's not funny," she responds in the most patient and reasonable tone she can muster.
"I don't control the raptors, it's based on mutual respect," he says, articulating something which he clearly does not feel for her. "That's why you and I never had a second date."
He then wanders off into this spiel about how myopic it is for her company to objectify these majestic instinct-driven beasts as "assets" before immediately driving the "instinct" part back to his apparent bitterness that she didn't sleep with him after the first date. Clearly, she is the problem here.
Incidentally, given that they work for the same corporation, this interaction falls comfortably under the umbrella of workplace sexual harassment and should at least get him a slap on the wrist from HR, but whatever. He doesn't play by the rules, man. He goes his own way.
In context, this clip is remarkable because it is not the first time Claire gets dressed down by a male colleague for playing too close to the rules and needing to loosen up, but the third. The first time it even comes from her subordinate, Lowery, (her foresight prevents him from spilling his Starbucks© on the floor) and then in the following scene from her boss, Masrani, who takes her on a helicopter joyride, wheee! (Yeah, his hot shot helicopter ways kill him later). Three times in the first fifteen minutes. Learn to loosen up, Claire. You work too much, Claire. You should smile more, Claire. We get it, we fucking get it. Did we really need this scene three times?
But Claire getting a dressing down by her male co-stars was a part of the film's marketing, so that I was expecting. What I wasn't expecting was Claire getting a dressing down for being ambivalent as to whether or not she should be a mother from her own goddamn sister.
I assume this scene was included because we need to set up the relationship between Claire and her sister, Karen, played by Judy Greer. After whining at Claire that she should pay less attention to her job and more to her (extended) family (whose idea was it to foist these kids on Claire during the middle of the goddamn work week anyway?), Karen impresses upon Claire the importance of bonding with her nephews. "When you have kids of your own–" she tells Claire. Claire cuts her off: "'If,' not 'when'," she stammers, continuing to demonstrate the staggering amount of patience she has shown every time some fuckstick in this movie has disregarded her life decisions.
"Not 'if'," says Judy Greer, trying to focus on the big fat paycheck she'll get after she squirts out this fetid little turd of a line. "'When!'"
Hear that, career girls? Babymaking has been upgraded from "if" to "when"! So get crackin', Claire.
Claire's life is one of being criticized, patronized and shat upon by her male co-workers for alternately being too feminine and not feminine enough. She is dedicated to her work, and no one is cool about this. Her sister dumps her sons on her during a heavy work weekend, and then shits on her for not being mom-ish enough. Claire just can't fucking win.
But the "fuddy duddy career gal who learns to loosen up" is the way we've decided to go with this plot, so that's what we get. As Joss Whedon put it on Twitter, "… and I'm too busy wishing this clip wasn't 70's-era sexist. She's a stiff, he's a life-force – really? Still?"
The "character flaw" in play is that Claire is a stick in the mud who is too obsessed with control, but her organized and controlled nature doesn't lead to anything wrong or bad over the course of the narrative. Owen won't shut the fuck up about how misguided it is that she sees Abominable Rex as an "asset," but it's not her job to have any kind of connection to them. Owen gives her several dressings down for this, but you know what? Fuck you, Owen. That's not her job, that's your job, so stop sexually harassing your co-workers and do your fucking job.
The worst thing about this cliché "loosen up, lady" garbage is that it doesn't pay off in any meaningful way. Being an organized control freak isn't mutually exclusive with being able to troubleshoot and improvise in a tense situation — she does both of these things in the control room and in the field. Claire's need for control in her life doesn't start the danger, nor exacerbate anything once the danger hits. It also never hinders her; she doesn't pull an Indiana Jones and the Temple of Doom-style Willie Scott freakout when confronted with the gross yucky reality of mud and bugs and stuff. Quite the contrary — when they need to save her nephews from Insidious Rex, she insists on jumping right in (while, of course, Owen raises a macho eyebrow at her impractical lady-shoes with the hoity- toity two-inch heels). Claire's need for control isn't a character flaw in any meaningful way other than giving our lovably misogynist male characters something to give her shit over. Because how dare you take your work seriously, Claire?
Claire's treatment by her colleagues doesn't even feel on-brand for the franchise, especially if the film draws exclusively from only the first Jurassic Park as a canon predecessor. Jurassic Park was an excellent sci-fi thriller with well-rounded characters, tight themes and an intelligent screenplay, whiffs of anti-science sentiment aside. And yes, I, like every 90's-ling have seen it 800 times and have it memorized — even after you take off the nostalgia goggles, it is an expertly crafted film built on a damn solid screenplay.
There are three "experts in their field" in Jurassic Park — Alan Grant (paleontology), Ian Malcolm (chaos theory) and Ellie Sattler (paleobotany). And at no point does anyone cut off, disrespect or underestimate the lone lady's expertise by virtue of her lady-ness. Sure, Ian flirts with Ellie during the first half of the film, but never in a disrespectful way, and nothing that makes Ellie uncomfortable.
The one instance of overt sexism in the film (the elderly Hammond implying he should do the dangerous thing instead of Ellie because he's a… and she's a…) is addressed head on by Ellie. They don't have time for this, and they can "address sexism in survival situations" when she gets back.
The characters of the original Jurassic Park don't take each other for granted because of age or gender; it is a crisis, and they need all the expertise they can find. In Jurassic World, the constant second-guessing Claire is confronted with is baseless. At one point, after the kids are reunited with Claire and Owen, and after Owen drives a car (backwards) away from a stampeding mob, one of the kids cries, "Can we stay with you?" to which Claire responds that she'll never leave them alone again. "I meant him!" says the kid, pointing to Owen, who he has only just met.
Bear in mind, the kids haven't yet seen any of his heroics. They have seen Claire save Owen from a grisly death by shooting a toothy flying thing that had pinned him to the ground. But, you know, she's got those shoes, and he's a pair of sassy man-arms who drove a car backwards. So…
The most overt instance of a character being punished for femininity does not go to Claire, however, but her assistant Zara. Her big crime in the narrative is talking on the phone while babysitting Claire's nephews at an attraction — the minute she turns her back on them, they take the opportunity to run away from her.
The next time we see her, she dies in the most elaborate and gruesome death scene ever in any of the four Jurassic Park movies. You know how usually when a dinosaur eats someone in these movies it's pretty quick? This one goes on and on and on. I'd compare it to the sort of thing you'd see in Sharknado, but even those instances tend to be brief, because you can only see a human suffer for so long before it starts to feel like torture porn.
What awful thing did this character do that watching her scream for nearly two minutes would be gratifying for the audience? Is it because she was wearing high heels and talking on her phone like a Chatty Cathy?
Despite the fact that this is the same universe and comparisons are not only inevitable but invited (just how the hell many shots from the original did they go out of their way to recreate and why the hell why why?), it's not really fair to compare the two. Jurassic Park had characters, and Jurassic World has one character surrounded by a wash of cardboard cutouts who are considerably less compelling than their CGI dinosaur co-stars. Jurassic Park is calculated, well-crafted and intelligent, and Jurassic World is a dumb, slapdash and nonsensical nostalgia cash-in because the '90s kids have kids of their own now. But lots of movies are dumb. And besides, Jurassic World is the kind of dumb that builds to some truly fun payoff with dinosaurs fighting each other while Claire uses her 99% maximum girl power to up the ante even more.
But the fact that the film is being praised for being "self-aware" is where I draw the line. No. No, it's fucking not. In response to gender issues in the film (specifically the shoes), director Colin Trevorrow says in an interview with io9:
"…honestly, maybe I feel that I'm revealing my own ignorance in not having anticipated how that was going to become a subject of discussion, the way that it has. … I guess it's a testament to my own ignorance of how things can be perceived — I never really saw it any other way. I definitely didn't see it as a character who was learning to want to have children. That didn't even occur to me."
If you want to subvert sexism, you have to be aware of how it manifests in the first place. You cannot subvert sexist tropes if you don't even realize you're doing it. When you have a befuddled director bumbling variations on "I didn't even think of that" when people point the sexism inherent in his creation, you don't get to play the self-aware card.
Having a female character be stripped of her symbolic femininity in a meaningful way requires a deft hand, one which (by the director's own admission) we do not see here. Here, character growth is shedding the vain trappings of femininity and being cool and awesome like Chris Pratt's paper-thin Owen. Which brings us back to…the shoes.
She never takes off the high heeled shoes; even as she's luring a T-rex into battle, the shoes stay on. At Howard's insistence, she never loses the shoes. And you know what? Awesome. Maybe the director and screenwriter don't get it, but Howard does. Is Owen right when he gives her shoes the side eye? Who cares? Fuck you, Owen. Is it practical? No, but the filmmakers decided to take the shoes and single it out as an example of her woman-y vanity; good on you girl for keeping the damn symbolic shoes. If I can accept that a corporation would decide that siccing a pack of velociraptors onto Hieronymous Rex to bring her down was a totally reasonable course of action, I can accept Bryce Dallas Howard running from the damn T-rex in heels.
Here is a character too good for her own movie, and the movie doesn't even know it.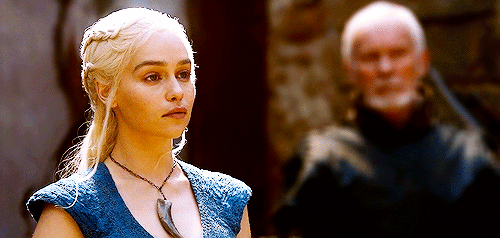 Lindsay is a writer, critic and vlogger (on YouTube), and co-hosts the book review show "Booze Your Own Adventure." If you don't mind your timeline flooded with tweets about old cartoons, robots, Michael Bay and photos of Tom Hardy petting dogs, follow her on Twitter.