15 Things You Probably Didn't Know About Army of Darkness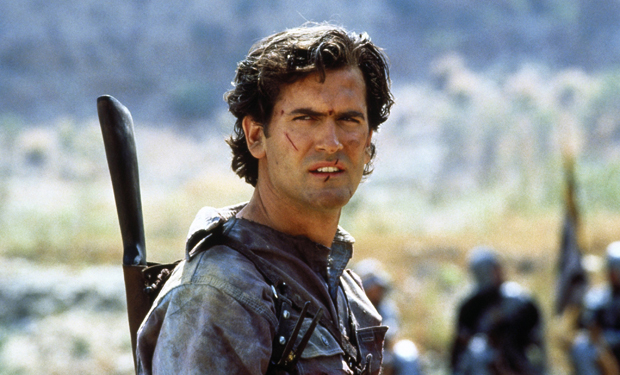 Posted by IFC on
You probably know all about Ash's boomstick, but as these 15 anecdotes show, Sam Raimi's hilarious fantasy is always worth a closer look.
1. Army of Darkness isn't the entire title.
The film's title is stylized onscreen as Bruce Campbell vs. Army of Darkness. This phrasing was Sam Raimi's homage to the defunct Hollywood tradition of putting stars' names in movie titles (like Abbot and Costello Meet Frankenstein)—but the studio feared the long title would confuse moviegoers, so it was shortened for official purposes to just Army of Darkness.

---
2. And that title wasn't Raimi's first choice.
Army of Darkness is the third installment of the Evil Dead series and the first to take place during the Middle Ages. Raimi's original title for Army of Darkness was The Medieval Dead.
---
3. Bridget Fonda finally got to work with Raimi.
Fonda makes a cameo appearance as Ash's girlfriend Linda during the beginning flashback sequence. She is the third actress in three films to play Linda (following actresses Betsy Baker and Denise Bixler). Fonda—a huge Evil Dead II fan—had originally auditioned to be in Raimi's previous film, Darkman, but didn't get the part.
---
4. Ash's car had a lot of screen experience.
The 1973 Oldsmobile Delta 88 allegedly appears all of Sam Raimi's films.

---
5. Darkman made it all possible.
Raimi wanted to make Army of Darkness immediately following 1987's Evil Dead II, but he struggled to find funding to finish his trilogy. The financial success of Raimi's 1990 film, Darkman, eventually convinced Universal Studios to split the $12 million budget with executive producer Dino De Laurentiis.

---
6. A subtle science fiction reference plays a key role.
The words Ash must utter to safely retrieve the Necronomicon ("Klaatu verata nikto") is actually a variation on a phrase from the original version of The Day the Earth Stood Still. In that film, "Klaatu barada nitko" is the phrase one must say to stop the robot Gort from destroying Earth.

---
7. The skeleton Deadites were an homage.
Their design is a tribute to visual effects legend Ray Harryhausen.
---
8. The Stay Puft Marshmallow Man makes an appearance.
Billy Bryan, the actor who portrays the second monster in the medieval pit, also portrayed the Stay Puft Marshmallow Man in Ghostbusters.