R. Kelly's Trapped in the Closet premieres at NYC's Sunshine Theater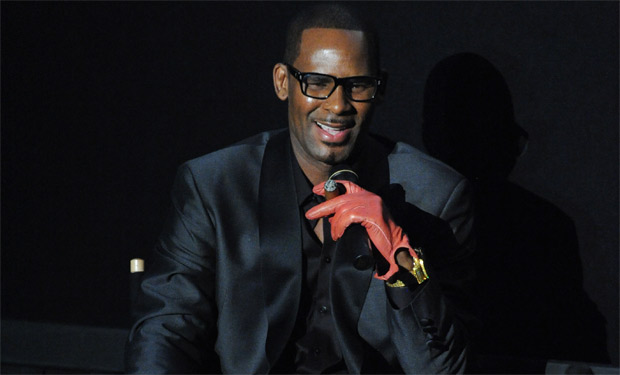 Posted by Melissa Locker on
You guys, Trapped in the Closet is forever. R. Kelly said it, we believe it, and that settles it. In other news: R. Kelly is heading to Broadway. And that's not all that was revealed during last night's debut of the next installment of Trapped in the Closet, which premieres right here on IFC on Friday, November 23 at 9/8c. Not only did Kellz announce that a Broadway production of Trapped in the Closet is in the works — and we're going to start camping out for tickets now — but he also said that he already had 85 chapters ready to be filmed. You excited yet? You should be.
The announcements came during a Q&A session that followed a screening of the all-new chapters in the continuing saga of Kelly's hip-hopera at New York City's Landmark Sunshine Cinemas. Taking the mic after the screening, Kellz, clad in a sharp tuxedo, red leather gloves, indoor sunglasses, and a cigar burning despite NYC's ban on smoking inside public places, announced that "'Trapped in the Closet' is an alien, and I'm happy to be one of the astronauts." While only Kelly himself is entirely sure of what that means, he did admit that he never thought his "silly" idea would become a cultural phenomenon. He also seemed genuinely surprised and grateful when the audience roared their approval when the lights went up after the show. "I'm just having a lot of fun," said Kelly to the rapt audience. "I don't have a job, so I sit in the studio all the time and think of stupid stuff to do. And this is just something stupid I've done that's been successful. I'm having a lot of fun with it."
Kelly, the multi-platinum recording star with a dozen hit albums, seemed as nervous as a middle schooler at a talent show when he came out to introduce the next chapters of Trapped. While it's hard to imagine Kelly being nervous in front of an audience that was happily singing along to "I'm A Flirt (Remix)" right before he hit the stage, he noted, "I am so nervous, but so excited to show you this." The audience, composed mostly of members of the press along with cast, crew, and friends of Kellz were excited to see the new chapters, which were five years in the making.
While we had to pinkyswear and make an oath on a stack of R. Kelly albums not to spoil anything about the new chapters, we can tell you that some of your favorite characters including Sylvester, Pimp Lucius, Randolph, and Rosie the Nosy Neighbor are back and that Twan's biceps really are that big. When you tune in on Friday, November 23rd at 9/8c, you'll also meet a bunch of new characters, but if we told you about them, we'd have to give up our copy of "Soulacoaster" and/or our first born and we could never make that choice.
The veteran crooner explained that the five-year lapse between installments of Trapped was the product of laziness, but said that getting back into the swing of writing and directing was easy. "It's not hard somehow. When you commit to something and have fun with it, it appreciates you, the gift, and it starts to help you out," he said. "It cheats through things for you and it kind of writes itself. I'm having so much fun with this thing. I'm so committed to it, it just happens. It just continues to happen. Every time I put the [opening sound] track on, I hear these new stories and new characters." Let's hope that Kelly keeps cranking that soundtrack for years to come and that Kelly makes good on his word and that Trapped in the Closet is forever.
Want the latest news from IFC? Like us on Facebook and follow us on Twitter @ifctv.
Trapped in the Closet returns to IFC on Friday, November 23rd at 9/8c.