Top 10 bullet scenes in movies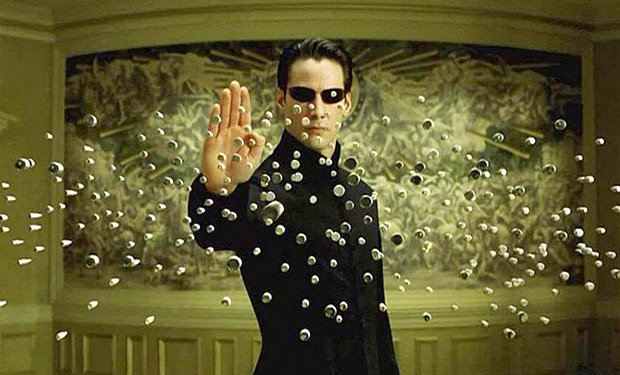 Posted by Bryan Enk on
With this week's premiere of IFC's crime-ridden, ultra-violent two-night event "Bullet in the Face" (kicking off Thursday 10/9c), let's lock, load and take aim at some of the most memorable bullet scenes in cinema.
---
"The Matrix" (1999) – "Bullet time"
One simply cannot even fathom doing a bullet-themed feature without including the film that introduced the term "bullet-time" into the pop culture consciousness. While some of the visual effects in the Wachowskis' game-changing science-fiction thriller may now look a little dated (hey, it's been over 13 years, after all), the maestro flourish featuring Neo (Keanu Reeves) dodging the tiny particles being fired at him by the Agents (mostly by really, really leaning back) remains an exhilarating sight. What a great hero moment – and a great bullet moment, at that.
---
"Superman Returns" (2006) – "Bullet vs. Superman's Eye"
And who do you think wins? Special effects technology has leaped tall buildings in a single bound since the time of the 1978 "Superman," which means that by 2006 director Bryan Singer could really get big (or, in this case, small) in showing off the many powers of the Man of Steel. We love this scene mostly because this idiot truly seems to think that a silly machine gun is going to stop the guy in the red cape whom everyone knows can't be hurt by bullets, even when there's a lot of them all at once. That single bullet being crushed by coming into contact with one of Superman's baby blues is one of the film's most audience-pleasing moments.
---
"Fight Club" (1999) – "Exorcising Tyler Durden"
Sure, the Narrator's (Edward Norton) last resort in ridding himself of his id-driven terrorist alter-ego (Brad Pitt) might not make much sense (we guess a bullet in the cheek is a quick cure for psychosis?), but it sure is viscerally satisfying … especially when Tyler himself gets one more quip in ("What's that smell?") before hitting the floor and floating back into the subconsious. One has to wonder if screenwriter Jim Uhls didn't quite know how to wrap up the central conflict in "Fight Club" after considerably changing the ending of Chuck Palahniuk's novel already, but hey, there's something about it that works just fine. Unfortunately we don't have the clip itself, but why not go behind-the-scenes of the movie magic that brought this slo-mo ker-blam to life?
---
"Pulp Fiction" (1994) – "Marvin Should've Had an Opinion"
"Oh man, I shot Marvin in the face…" John Travolta's blithe line reading of hapless hitman Vincent Vega's reaction to his unfortunate "accident" in Quentin Tarantino's "Pulp Fiction" turns a shockingly violent set piece into one of the film's funniest moments (Jules' profane-ridden outrage at the sudden situation helps, too). We'll never quite know how Vincent managed to squeeze on the trigger whilst insisting that his associate, Marvin, has to have an opinion on whether or not the fact that he and Jules (Samuel L. Jackson) survived a recent ambush was an "act of God" or not, but it's probably most definitely not because driver Jules "hit a bump or something." Anyway, time to get to Jimmy's at Toluca Lake and call the Wolf to clean up the mess!
---
"Fargo" (1996) – "Ohhhhh geez…"
"I gave simple fu**ing instructions!" Oh, Carl, don't you know this caper was doomed from the start when it couldn't be agreed whether Shep said the meeting was 7:30 or 8:30? Things go from bad to almost supernaturally worse in "Fargo," and Wade's (Harve Presnell) alpha-male ego doesn't help matters when he thinks he can strong-arm the men who kidnapped his daughter. "No Jean, no money!" gets Wade shot through his parka (we love that poof of cotton – oh, Coen Brothers!), though he manages to avenge himself somewhat by shooting Carl in the face (Steve Buscemi). "You should see the other guy," Carl will later joke to his partner, Gaer Grimsrud (Peter Stormare), who will later top it all by showing you don't need a gun when an axe and wood chipper will do just fine.