"The Avengers" returns to theaters for one week starting tomorrow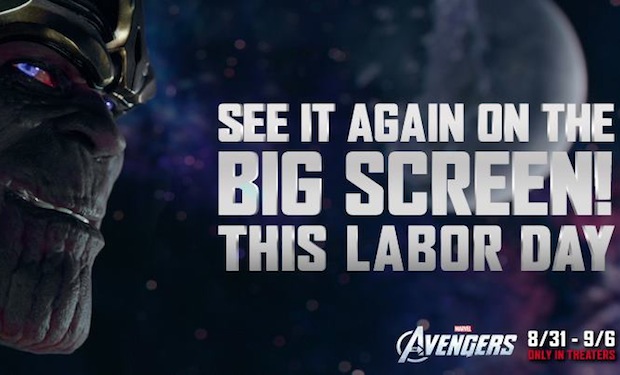 Posted by Terri Schwartz on
Has it been too long since you last saw "The Avengers"? Well, you're in luck, because the top-grossing movie of the year is coming back to theaters for a limited one-week engagement starting tomorrow.
The Joss Whedon hit will start playing in theaters nationwide on August 31 and complete its second run on September 6. There's still a chance you'll be able to catch it in theaters after that considering the fact that it was still showing in 123 locations around the country last weekend.
It will be interesting to go back and watch the movie now that we know so much about "Iron Man 3," "Thor: The Dark World," "Captain America: Winter Solider" and "Guardians of the Galaxy." Hopefully we can read a little more into that Thanos appearance during the closing credits of the film now that we know he'll likely be the Big Bad in "Guardians."
Thanks to the deluge of deleted scenes and featurettes Marvel has released in anticipation of the September 25 release of "The Avengers" Blu-ray, DVD and digital download, we also have a new frame of reference for the entire story. The studio has released an alternate opening and introduction to Captain America that tease a very different cut of "The Avengers," while deleted scenes and a hilarious blooper reel give even more context to the movie.
So far "The Avengers" has made $617.8 million in the United States and a total of $1.49 billion worldwide. With this week-long run, "The Avengers" might be able to steal the title of second highest grossing movie in the US from James Cameron's "Titanic."
Will you check out "The Avengers" this week? Tell us in the comments section below or on Facebook and Twitter.