Joseph Gordon-Levitt and David Koepp talk "Premium Rush" bicycles, bruises, and Batman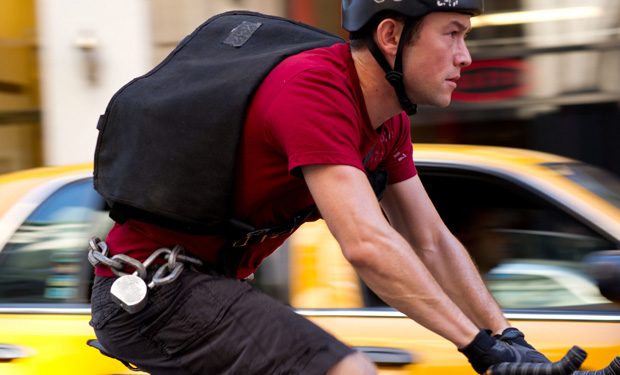 Posted by Rick Marshall on
"Premium Rush" wheels into theaters this weekend, and it's a fun, fast-paced thriller that stars Joseph Gordon-Levitt as a bike messenger who's pursued from one end of Manhattan to the other by a vicious, crooked cop played by Michael Shannon.
The film is directed by "Mission: Impossible" writer David Koepp, who co-wrote the script with John Kamps.
IFC spoke with Gordon-Levitt, Koepp, and Kamps this week, and discussed the movie's impressive stunts, its innovative visual elements, and the always-present threat of crashes (including one that put Gordon-Levitt through a taxi's rear window). We also got some updates on the trio's upcoming projects, including the live-action "Spy vs. Spy" movie, as well as the next Jack Ryan movie, and Gordon-Levitt's uncertain future with the Batman franchise after "The Dark Knight Rises."
IFC: Before we get into anything else, why bike messengers? What brought you to the world of bike messengers as the angle into this story?
DAVID KOEPP: I live here and see bike messengers a lot. You can't help but think about them as they go by like that, missing you by 6 inches. [Laughs] But I'd had in my head that I wanted to do what's called a "map movie," where it's all about a guy getting from point A to point B in a limited amount of time. So then John [Kamps] and I started talking and we wanted the guy to be on a bike, because it was uniquely cinematic. We'd seen a million car chases in movies, but hadn't seen too many bike chases. And with the way cameras and technology have evolved, the ability to have a small camera in the middle of something like this is much greater than it used to be. It kind of grew from there.
IFC: What about you, Joe? What was the appeal of this character and the story for you?
JOSEPH GORDON-LEVITT: I was in the middle of shooting "50/50" when I read the script for "Premium Rush." I was playing a guy whose body was giving up on him, so the idea of playing somebody who was strong, confident, and healthy in their body and getting fit and riding around New York City all summer felt like the perfect contrast to battling cancer.
IFC: One of the elements of the film that really impressed me was the "Wilee Vision" scenes, when the camera freezes and we see Wilee decide which route to take through an intersection. He sees all of the terrible things that will happen to him in each route he takes until he finds one that gets him through safely. What was the genesis of that storytelling element?
KOEPP: That was the one time when we were allowed to use effects — allowed by our own rules, that is. We wanted the movie to be a stunt movie, not a CG movie, and wanted it to be about what well-trained actors and stuntmen can do physically, and to have that joy of watching something like an athletic performance as well as the usual performance. So we didn't want to use effects, but in those scenes, because we were in his head space and it was a fantasy anyway, we decided to give ourselves some latitude and figure out a cinematic way to show the decision-making process a person goes through in those moments. Obviously there are several different components in those shots, so you shoot bit-by-bit and assemble the shot.
JOHN KAMPS: It was like giving Wilee a super power. [Laughs] He's got a super-active brain and he's able to process these scenarios.
IFC: On the subject of stunts, there were photos of Joe floating around online that showed him bleeding from his arm after taking a nasty fall during filming. It seems like you really invested yourself in the messenger lifestyle…
GORDON-LEVITT: Well, I trained for six weeks leading up to shooting, riding every day, because I wanted to be in shape so that I wouldn't be making a film crew wait for me while I caught my breath. I wanted to look natural and real on a bike, and I wanted to learn how to ride a fixed-gear bike — which is different from a bike you grow up riding. I actually grew to prefer the fixed-gear bike.
IFC: So you ended up taking the gears and brakes off your own bike?
GORDON-LEVITT: Well, there's actually a difference between a fixed-gear bike and a bike with no brakes. A fixed-gear bike only has one gear, but you can have a fixed-gear bike with brakes, too. It's common, though, especially amongst messengers, that they have a fixed-gear bike and take their brakes off. I rode around for a while without brakes and then got into an accident and got 31 stitches, so from that point on we put the brake on the bike and just figured we'd hide it. Because it's an important character trait that Wilee rides without brakes, and I think it's a clever metaphor for the whole story and who he is.
KOEPP: Crashes were a part of it, though, they were a part of it for everybody. Joe, because he's the star, he had the worst crash. [Laughs]
KAMPS: [Laughs] He bleeds for his art.
KOEPP: Everybody went down at one point or another because bikes fall over. They're dangerous. One day, I think we were talking about helmets during prep. In reality, maybe 2/3 of messengers wear helmets, and we were trying to make all our decisions based on what's real. But on that day, I remember we were shooting some tests and someone fell, and I said, "Fuck it, they all have to wear helmets." It's the only area I think we depart from reality a teensy bit. And the day Joe went through a cab window, I was like, "Damn, I'm glad they all wore helmets."
IFC: There were a lot of bike messengers on set, from what I've heard. What was the interaction like with the real-world bike messengers you used as extras and stunt doubles?
GORDON-LEVITT: There were five of us who played Wilee in the movie — me and four different doubles. And one of the doubles is a working bike messenger, arguably the fastest in the world, and he happens to look like me, too. Austin Horse is his name. We became friends, and I told him, "Anything you see, anything at all that seems odd or that I could be doing that's more accurate, just tell me." And he did. It was hugely helpful — right down to the details of where your bag sits or how you would take an envelope out of the bag.
KAMPS: And where do you put your helmet…
GORDON-LEVITT: And where the pen goes…
KOEPP: It's not that you're obsessing over details, either. You just want to make sure you have the details right so you can not think about them and the audience won't, either. You want to make sure all that stuff is cold, so you can do your job.
IFC: The music in the film really stood out, too. There was a nice rock n' roll tone that seemed to match up well with certain scenes…
GORDON-LEVITT: I agree.
IFC: The score could have gone differently, with a techno theme or something like that. Why rock n' roll?
KOEPP: Well, that's the work of a great composer named David Sardy who's been a rock n' roll producer for many years. When we were writing it, we just thought it felt like two guitars, a bass, and a drum. It felt like rock n' roll was what it wanted to be. Then Dave came in and did a great score.
GORDON-LEVITT: And let me add that movies almost never get rock n' roll right…
KOEPP: Yeah, it's usually a Hollywood composer adding a little "rock n' roll"…
GORDON-LEVITT: Exactly.
KOEPP: So instead of that, we got a rock n' roll guy who only did one other score, the one for "Zombieland."
IFC: Michael Shannon is fantastic in the movie, and Joe and Michael seem to play off each other really well in their scenes together. Give me some background on your interaction with him, Joe…
GORDON-LEVITT: He's one of the best actors alive, and he's a beast. He's so much fun. There's a real tradition of movies like this with villains played by extremely fine actors like Dennis Hopper in "Speed" or Alan Rickman in "Die Hard." To me, he's one of those types: a classic Hollywood heavy.
IFC: Do you guys find yourselves looking at bike messengers a little differently after filming this movie?
KOEPP: Absolutely — especially when I see them in the rain. You do a movie about somebody and you start to think about things the way they think about them and you develop a lot of sympathy for their way of life. I notice them a lot more now, and I know it's really hard work, and perilous, too.
GORDON-LEVITT: I notice anybody on bikes now. This movie definitely reinvigorated my love for bicycles. I remember when I was a kid going to see "White Men Can't Jump," and coming out of the theater wanting to play basketball. I really hope this movie does that for cycling. The truth is, if more people rode bikes and fewer people drove cars, the world would be better for it, and the individuals would be better for it, too. It's such a good, positive thing all around. I love that "Premium Rush" is a popcorn flick but it's glorifying something so healthy, like bicycles — it's not guns or cars or any of those destructive machines. Bikes are great, great things. You're going to get healthy if you ride a bike a lot…
IFC: As long as you don't crash…
GORDON-LEVITT: [Laughs] Hey, it's better to crash on a bike than in a car…
IFC: So I just wanted to catch up with you guys about your next projects, too. David, you and John are working on a "Spy vs. Spy" movie based on the MAD Magazine strip, right?
KAMPS: I'm working on the draft now, actually.
KOEPP: Yeah, where is that draft?
KAMPS: Uh-oh. I have to get out of here… [Laughs]
KOEPP: We'll be turning in a new draft in a couple weeks and hopefully we'll get the go-ahead after that…
IFC: It's going to be a live-action film, right?
KOEPP: Yes, it's live-action.
GORDON-LEVITT: So they don't have the crazy noses?
KAMPS: Nope!
IFC: And what about the Jack Ryan movie you're working on, David?
KOEPP: We start shooting next week. It's really good, I think. Kenneth Branagh is directing it and playing the villain. Chris Pine, Kevin Costner, and Keira Knightley are some of the other fine actors in it. It's going to be a lot of fun. They shoot here for three days and then in Moscow and London.
GORDON-LEVITT: Wow. You're shooting in Moscow?
KOEPP: For a week, yeah. Have you been there?
GORDON-LEVITT: Yeah, I was there in the dead of February. It was really intense, but it's beautiful.
IFC: And what's next for you, Joe?
GORDON-LEVITT: I'm currently editing a movie I wrote and directed and acted in, called "Don Jon's Addiction." Scarlett Johansson is in it, and Julianne Moore is in it, too. I had a ball doing it. Dave's one of the first people who read my first draft of the script. I was writing it when we were shooting "Premium Rush."
KOEPP: It's a great script.
IFC: So I have to ask — and I'm not even going to try and find a clever segue into this question — what are the odds of us seeing you in the Batman universe again, Joe?
GORDON-LEVITT: [Laughs] I love being in the movie, but I don't know. It's not a decision I get to make.
IFC: Is it something you can see yourself doing, though?
GORDON-LEVITT: If there's a great filmmaker and a great script, that's what dictates all the choices I make for any movie.
IFC: Fair enough!
"Premium Rush" hits theaters this weekend.