The 10 best comedy muggers, from Jim Carrey to Kristen Wiig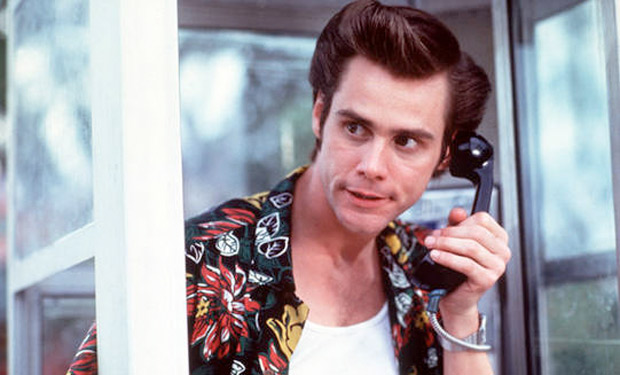 Posted by Andy Hunsaker on
Sometimes, comedy is very clever wordplay. Sometimes, it's a fart. Sometimes, it's a carefully crafted misunderstanding building to an embarrassingly awkward revelation, and other times, it's a caustic one-liner perfectly timed. Then, there are those occasions when someone's face can make you laugh without saying anything. It can be a reaction to that clever wordplay, a response to a fart, or the instant of that revelation about what's actually going on in a situation, and it can even just be straight-up clowning around. Whether it's rubber-faced mugging or withering glares, some comic actors can sell you on the funny without a word. Let's take a look at ten of the best comedy faces of all time, in no particular order.
---
1. Jim Carrey
Let's get this one out of the way, as he tends to be the first guy you think of when you think about wacky faces. The "Ace Ventura" movies were certainly an exercise in crazy contortionism, but his time on "In Living Color" and even his old stand-up act showcased just how rubber-faced this rubberface really is. It's just amazing what this guy can do with his mug, not to mention the rest of his body, in the service of a laugh.
---
2. Lucille Ball
Oh, there was so much to love about Lucy, not the least of which was her ability to bring an audience – hell, a nation of "I Love Lucy" viewers to laughter with nothing but a look. Wide-eyed realizations about misunderstandings she'd had with Ricky or crazy hijinks with Fred and Ethel, she could bring that comedy home with her face just as much as with her famously husky voice. Here's an example of how talented she was without the use of words.
---
3. Jerry Lewis
You wouldn't have had Jim Carrey without Jerry Lewis. He was the wildly zany madman to Dean Martin's unflappable cool cat, and that made them one of the most legendary comedy teams of all time, starring in movies, television and even comic books. Lewis eventually became popular enough to soar off on his own as a comedy icon. Take a look at this selection from the old Colgate Comedy Hour, when his face is constantly contorting as he wreaks havoc with the cameramen and all the behind-the-scenes folks. You can't not laugh at this guy.
---
4. Marty Feldman
Some faces are just so strange that just their mere existences can elicit a startled laugh. Feldman was a brilliant writer and performer, but his most memorable trait came from the Graves' ophthalmopathy he was afflicted with that caused his eyes to protrude and be misaligned. Rather than let this hold him back, he turned it into a career in show business – most memorably as Igor in "Young Frankenstein." He was a contemporary and colleague of the Monty Python crew, co-writer of the famous "Four Yorkshiremen" sketch for "At Last the 1948 Show," and he did a great deal of non-verbal comedy – such as this sketch, wherein he channels Harpo Marx.
---
5. Bill Cosby
You want mugging, Mr. Cosby will give you mugging. One of the most enduringly creative stand-up comedians of all time, still working hard and getting it done today nearing the age of 75, The Cos has had one of the most malleable mugs you've ever seen on television, and it's on full display whenever he sits down with a microphone to tell some stories to audiences full of appreciative people. It's also immortalized forever on one of the most popular TV sitcoms ever, Ye Olde "Cosby Show," which you can see for yourself in this clip of Heathcliff Huxtable relating the saga of his daughter's crappy car.