LAFF: Melanie Lynskey talks playing Aunt Helen in "The Perks of Being a Wallflower"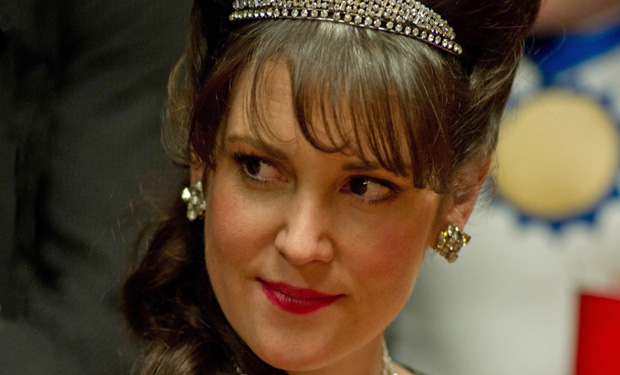 Posted by Terri Schwartz on
When it was released, "The Perks of Being a Wallflower" felt as though it was the "Catcher in the Rye" for the Millenial generation. The 1999 novel, written by Stephen Chbosky, told the story of its titular wallflower as he navigated through his first year of high school and experimented with friendships, drugs and his sexuality.
"Perks" might seem like a pulpy novel on the surface, but it actually deals with some pretty serious topics, the least of which is child molestation. Fortunately for us, the actress who was tasked with portraying the topic in the film is one who is more than up to the task.
Be warned, there are "Perks of Being a Wallflower" spoilers in the rest of this article.
Melanie Lynskey, the same woman who charmed us in "Away We Go," "The Informant!" and "Up in the Air," was cast as Helen, the aunt who molested main character Charlie when he was a child. When we caught up with her at the Los Angeles Film Festival red carpet for "Seeking a Friend at the End of the World" — another movie with an unhappy plot line for the actress — she admitted that it was difficult to portray a character who's on the negative side of a very sensitive issue.
"I think it's an important story. It's an important thing to talk about, and I love the way it's told. It's really moving, and it's really special, but it's hard to be that person to be like, 'You know what? I'll do it.' It's like, ugh," she said with a laugh.
The trailer for "Perks" premiered during the 2012 MTV Movie Awards, but Lynskey's character's plotline has been mostly kept under wraps. Even though the movie has started to be screened for audiences, she said she's still mostly sworn to secrecy about the project.
"I don't know how much I can say about it, but I saw the movie recently and I just was like, god, if I was a teenager and this movie came out, it would make me lose my mind. I would be so excited," she said. "I loved it."
Most fans are excited about this movie because it's Emma Watson's first starring role following the conclusion of the "Harry Potter" series.. She'll be playing Sam, a high school senior who Charlie falls for. The movie also stars Logan Lerman as Charlie and "We Need To Talk About Kevin" star Ezra Miller as Sam's half brother and Charlie's best friend. Lynskey said she didn't get to work much with "Perks's" teenage stars, but she did hang out with them on set.
"I met [Watson]. I worked with Logan for a minute. I mostly worked with a little child," she said. Remembering the context of the scenes she had to shoot with him, she added, "Oh, god, the worst. The worst."
"The Perks of Being a Wallflower" is due out in theaters on September 21.
Are you looking forward to seeing Lynsky's portrayal of Aunt Helen in "The Perks of Being a Wallflower"? Tell us in the comments section below or on Facebook and Twitter.