Brad Bird took chances with "Mission: Impossible – Ghost Protocol" gadgets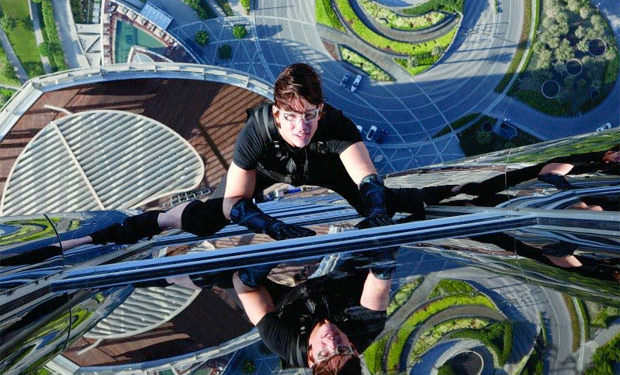 Posted by Brian Warmoth on
Tom Cruise's blockbuster spy-fest, "Mission: Impossible – Ghost Protocol," arrives on Blu-ray and DVD today, and its technical mystique involved more than an occasional exploding message. Director Brad Bird made his feature-length jump to live action for the film after winning Oscars for Disney and Pixar's "Ratatouille" and "The Incredibles."
Bird knew going in that the "M: I" franchise thrives on wacky technology, and together with Cruise's self-performed stunts, those gadgets attract audiences. Nevertheless, Bird first had to ask his own crew to suspend belief while filming the Kremlin scene.
"I think the [gadget] that took the biggest leap—meaning that some of the people in the crew came up to me later and said, 'To be honest with you, I don't think this is gonna work'—was the e-screen in the Kremlin," Bird told IFC at a tech-heavy pre-launch event at Washington DC's Spy Museum. "When we were making it the projected image was not there, and things didn't fit as tightly."
Although much of what made the final cut in theaters is real in "Ghost Protocol" was accomplished without extensive CGI effects, the e-screen, which renders a hologram of a fake hallway, had to be fully integrated after shooting.
"It was a little more wonky, and everyone was having to suspend disbelief and believe that we were going to pull this off," Bird explained. "So they were very gratified when the sequence was finally done."
Meanwhile, Cruise and his co-star for the scene, Simon Pegg, have had plenty of professional experience performing with animated props and set pieces.
"The actors are a little more willing to go there," Bird said. "They don't want to look foolish, but they're playing pretend, which is essentially what a director does; he's got his little toys, and he's going [makes pistol-shooting sounds]."
Dale Shelton, a technical consultant on the film, helped Bird to keep things believable. Even when they were playing around with remote-control vehicles and bio-metric scanning devices, they tried to make Cruise's espionage arsenal seem like it could exist sometime in the next few years—that is, if it doesn't already.
"That's what's great about this film—there is that basis in reality, and you leave thinking, 'Maybe that does exist,'" Shelton said.
"I was kind of shocked that some of these crazy ideas that we had were actually not too far from happening—like the camera in the contact lens is something that they're close to having," Bird confessed. "It was that these outlandish ideas weren't 20 years off—they were like two years off."
The ideas that came out of the script resulted in gloves for climbing scrapers and magnetic hover-suits, though, so not everything will be available on ThinkGeek.com in the next decade.
"Sometimes it doesn't matter whether it's going to exist or not," Bird admitted. "[We just decided] it would be cool in the movie, so we're going to do it."