Tim Grierson on Leonardo DiCaprio and Kate Winslet's Remarkable Post-"Titanic" Careers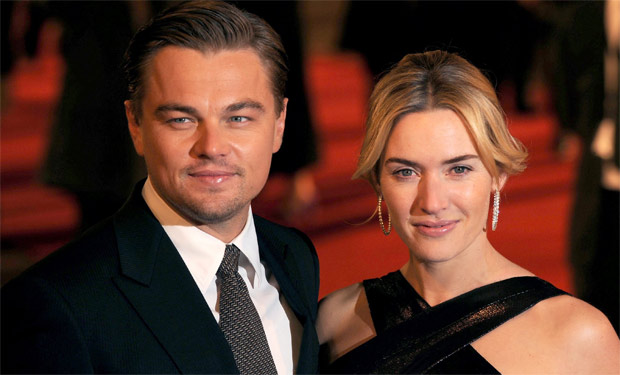 Posted by Tim Grierson on
Every once in a while, websites will run one of those "Where Are They Now?" features where they'll spotlight a beloved old movie or TV show and then let you know what its cast members are up to these days. Normally, one of the actors has remained successful, while the rest of them had OK careers whose highlight was this specific movie or TV show. I realize such features are popular, but they always make me sorta sad. So many of these poor people are, say, 20 years removed from their biggest hit — it must be somewhat difficult to only be remembered for something a lifetime ago.
That's what makes the 3D re-release of writer-director James Cameron's "Titanic" this week so unusual. The Oscar-winning romantic drama, which opened December 1997, featured two rising young stars who haven't been associated with a hit that mammoth since. (To be fair, though, almost no one has: It wasn't until "Avatar" came around that "Titanic" was knocked off its perch as the highest-grossing movie of all time.) Leonardo DiCaprio and Kate Winslet became household names thanks to "Titanic," but, somewhat miraculously, neither of them feel hopelessly chained to that film. They've gone on to impressive careers. That doesn't happen that often.
You could argue that lots of people knew DiCaprio and Winslet before "Titanic." And while that's true, it's important to go back and see what each actor's biggest hit was before "Titanic." For DiCaprio, it was "Romeo + Juliet," which made $46 million and was sort of a dry run for Cameron's high-stakes romantic tragedy. Meanwhile, Winslet had "Sense and Sensibility," the Jane Austen adaptation that earned Winslet the first of six Oscar nominations and grossed $43 million. By comparison, "Titanic" made $601 million, which was far more than the two stars' entire filmography combined to that point. Audiences may have been aware of DiCaprio and Winslet, but Cameron's smash made them superstars.
The challenge, though, is what a superstar does next. Although Winslet was the one to get an Oscar nomination from "Titanic," DiCaprio was the bigger name, and so his subsequent films had to contend with the expectations that they featured "the star of 'Titanic.'" "The Man in the Iron Mask" was a modest performer, he had a small (but really funny) part in Woody Allen's "Celebrity," and then he was the lead in "The Beach," a critical and commercial disappointment that, just three years removed from "Titanic," started to make people wonder if his star was beginning to wane.
But it was then that DiCaprio made a career decision that's helped him immensely since: aligning himself with A-list filmmakers. In December 2002, he returned with Martin Scorsese's "Gangs of New York" and Steven Spielberg's "Catch Me If You Can." Additionally, DiCaprio, who had one Oscar nomination under his belt already with "What's Eating Gilbert Grape," began making the transition from marquee dreamboat to serious actor. That hasn't always gone smoothly — some still complain that his performances in "J. Edgar" and "The Aviator" lack the necessary authority and grit — but with two Oscar nominations and five $100-million-plus hits in the last 10 years, he's clearly established himself as a star who earns both critical and commercial respect. That was hardly a sure thing when "Titanic" came out and he was just 23.
Unlike DiCaprio, Winslet never had such pressure after "Titanic." Maybe it was because DiCaprio already had a reputation as a Hollywood bad boy, but Winslet wasn't perceived as a "celebrity" in the same way. She was an actress, appearing in acclaimed indies like "Heavenly Creatures," "Jude" and Kenneth Branagh's "Hamlet." If her co-star's turn in "Titanic" seemed part of a well-designed ascent to stardom, Winslet's involvement was a bit more out of leftfield.
So it shouldn't have been a surprise that after "Titanic," she went back to indies, very happily doing "Quills" or "Iris" and not worrying if audiences wondered why she wasn't interesting in the spotlight. She's done the occasional studio movie, like the romantic comedy "The Holiday," but mostly the art house has been her domain, and she's done terrific work in films like "Eternal Sunshine of the Spotless Mind" and "Little Children." (She also won Best Actress for "The Reader.") But it's worth noting that the biggest hit she's been associated with since "Titanic" was last year's "Contagion," which only made $76 million. But wisely, she's never made box office numbers the way to gauge her success — it's from the impressive body of work she's already amassed at age 36.
Ironically, this weekend's other big release is also beset with nostalgia: "American Reunion." Looking at the poster for the film, which recreates the group-shot photo from "American Pie," you can't help but glance at the different actors and consider which ones have disappeared and which ones have had thriving careers. (Of that bunch, would you have guessed that Alyson Hannigan would be doing as well as any of them?) But with "Titanic," there's no such whatever-happened-to-so-and-so? awkwardness. In fact, we almost take it for granted that these two young stars have continued to be major onscreen presences. Honestly, they made it look rather easy. Even when they reunited for "Revolutionary Road" in 2008, the "Titanic" connection (though obvious) wasn't that big of a deal. They're two of our most constantly rewarding stars — them being in another movie together seemed natural.
Maybe that's why both DiCaprio and Winslet have expressed a little embarrassment at seeing "Titanic" again 15 years later. Cameron said that he showed the film to DiCaprio and "[h]e said to me, 'I'm such a young punk. Look at me.' He was practically crawling under the seat." As for Winslet, "I've seen little pieces of it," she said, "but it's a whole different me and we look much younger and our acting was different, hopefully not as good as now."
And they're both right. It's a nice feather in an actor's cap to be part of a film as popular and acclaimed as "Titanic." But perhaps it's even better to have gone on to do even better work since.