The 10 best George Carlin specials (with video)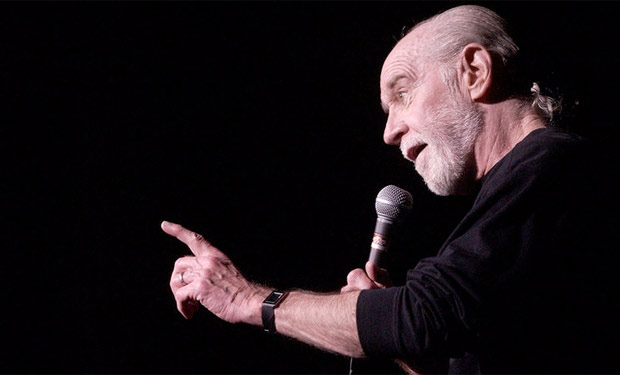 Posted by Andy Hunsaker on
George Carlin was the greatest comedian of all time. We can argue influences and cultural impact of anyone else you might name until the cows come home, but the fact remains that nobody had the incredible longevity he had, nor did they have the intellectual flexibility to drastically reinvent themselves twice without ever losing his singular artistic voice. He's inspired every comic worth their salt today, and he's established the paradigm of relentless hard work and brilliance that people like Louis C.K. and Patton Oswalt aspire to emulate. He did 14 specials for HBO throughout his storied career, and here are the ten essentials from that assortment that you need to see to understand just what makes Carlin's career the gold standard in comedy.
---
10. "On Location: George Carlin at USC" (1977)
You've got to watch the first one, right? That's just essential. As a sign of the times, the nascent Home Box Office had to not only preface this show with audience warnings, they had to add an additional heads-up just before he launched into his signature piece about "Seven Dirty Words." The legal brouhaha over its airing on WBAI-FM radio was still on its way to the Supreme Court, and he'd even been arrested for performing it once in Milwaukee. Aside from that, most of the show focuses on "The Little World" we all share, as he called it – similarities we share, everyday experiences, etc. – and shows us how laid back and casual he'd become after his earlier career of suits and sketch work, aspiring to be just like Danny Kaye.
---
9. "George Carlin Again!" (1978)
A year later, Carlin performs his second special in the round in Phoenix, and he hadn't yet established his later M.O. of developing all-new material for each special, so there's a bit of carryover from the first one, but a lot of new stuff as well – not to mention modifying and updating stuff from his previous albums to make sure they all get on camera. He has a lot of fun expanding on the Seven Dirty Words (amending it to include 'poontang' among many others), and the audience is a lively one, at one point actually tossing a joint on stage during his New News segment, as well as some Visine to 'get the red out.' If you know what they mean. Good thing the show also includes a send off to Al Sleet, the Hippy Dippy Weatherman.
---
8. "Carlin on Campus" (1984)
The transformation is beginning here. The long hair is short, the beard is graying, and he opens the show with a prayer "dedicated to the separation of church and state," which blends the Lord's Prayer with the Pledge of Allegiance. It's the 1980s, after all, and the counterculture movement he'd plugged into was well into selling out. This show contains the classic pieces "A Place For My Stuff" and "Baseball and Football," and a even a few cartoon interludes, and it ends on the most gloriously filthy and nonsensical sports cheer anyone could ever imagine.
---
7. "Playin' With Your Head" (1986)
As he approached his 50th birthday, Carlin's gray is more pronounced, his movements are a bit sharper , the gravel in his voice is increasing, and you get a sense of his slowly building towards the harsher mentality when he says things like "fuck the dead" while examining the concept of a 'moment of silence,' and explains that the whole reason he watches sports is to see some "serious, lifelong, crippling, debilitating injuries." Thus, suggesting leaving the injured on the field in football, surrounding the basketball court with a gasoline fire, or land mines in the outfield at baseball games. It's also one of his loopier outings, as he bursts into goofy spasms and weird gibberish songs at different points in the performance.
---
6. "What Am I Doing In New Jersey?" (1988)
Here it is. The first time Carlin came out and started focusing on "The Big World" – i.e. getting strongly political and denigrating our culture with a venom he hadn't had before. He opens with a long list of "People I Can Do Without," then starts to tear into the massive corruption in the Reagan administration – which is really interesting to listen to given all the delirious Reagan worship that's become the right wing standard today. The anger is really coming out, attacking the warmongers, the church people and the anti-abortion hypocrites, where he first busts out the line "doesn't it strike you as mildly ironic that most of the people who are against abortion are people you wouldn't want to fuck in the first place?"