Our 10 favorite movie feasts to whet your appetite this Thanksgiving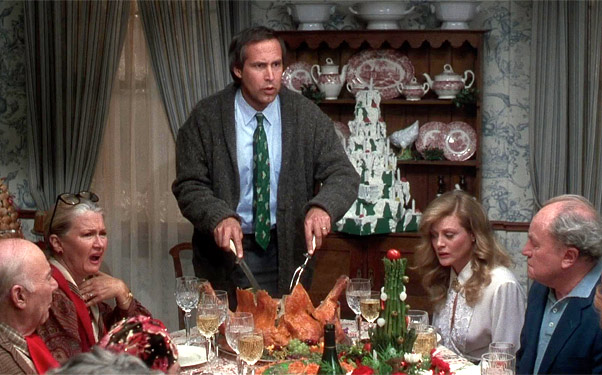 Posted by Terri Schwartz on
Sure, Thanksgiving is supposed to be a day that honors the Wampanoag Native Americans sharing their harvest with the Pilgrims, but to us, Thanksgiving is a time to celebrate everything we love about food. With that chow-happy sentiment on the brain, we decided to compile a list of our favorite onscreen movie feasts that had us wishing we were there to devour them too.
Did the Never Feast in "Hook" get you hungry? Us too. Did you want to go to Hogwarts only so you could pig out at dinner in the Great Hall? We hear you. Check out our top 10 list of movie feasts that get our bellies grumbling below. Who knows, maybe they will inspire some meals for your Turkey Day celebration next year.
---
"Pan's Labyrinth" (2006)
There's nothing that should get you in the mood for the holidays quite like a feast hosted by a child-eating monster with eyes for hands. Though we must say, of all the food at the Pale Man's table…grapes? Really Ofelia? Over that ham? But in any case, it's hard to fault the girl from breaking Pan's clearly dictated order of not eating anything at the Pale Man's table when everything looks so tasty. Though that whole "if you do it, he'll kill you" threat does sort of leave a bad aftertaste. Judging by the pile of empty shoes in the corner of the feast room, though, there were enough children for whom that threat just wasn't good enough.
---
"Harry Potter and the Sorcerer's Stone" (2001)
There's only one reason that we believe without a doubt that there's no way Hogwarts can actually exist in the real world: the food for dinner can't possibly be as good as it looks in the movies. Sure, the meals at the Wizarding World of Harry Potter are top-notch, but they just don't stack up to the plates after plates of delicious dishes and tasty treats featured on the dinner tables in the Great Hall. And to think, they get to eat like that every night.
---
"Babette's Feast" (1987)
When it comes to movies with feasts in them, "Babette's Feast" takes the cake. And the turtle soup. And the buckwheat cakes with caviar. And the quail in puff pastry with foie gras. And the rum sponge cake. Is your mouth watering yet? The Danish film — which won the Oscar for Best Foreign Language Film the year it was released — is a real testament to the love one woman has for food. After winning 1,000 francs in the lottery, a servant named Babette decides to use the money to create a lavish feast for the Christian sect she lives at instead of returning to her home in Paris that she was forced to leave 14 years earlier because of the counter-revolutionary rebellion in 1871. In the end, she is left again without money but with the knowledge that "an artist is never poor."
---
"National Lampoon's Christmas Vacation" (1989)
We're jumping holidays a little bit right now, and the company Chevy Chase keeps at Christmas isn't exactly our favorite clique. And, to be fair, that turkey looks like it tastes god awful, and there's not really anything else on the Christmas dinner table to eat. It doesn't matter: we just want to feast with Chevy Chase. Clearly he has been doing something right in the 22 years since this film was release, because he looks pretty healthy in "Community." But it's the Pledge of Allegiance moment in this scene that really sells this onscreen feast for us, regardless of whether the food was good or even edible.
---
"Big Night" (1996)
When a movie's climax is a giant dinner scene for 16 people, you know the flick is doing something right. "Big Night" — also known as Stanley Tucci's directorial debut — centers around two Italian brothers living in American trying to run a restaurant. Their big break comes when a famous jazz singer is supposed to pay a visit to their restaurant, and they pour their hearts into preparing the perfect dinner for the big night. Though things don't end up going as planned with the dinner, the meal looks absolutely fantastic. Chicken soup, a trio of risotto, timpano, roasted chicken, fish, asparagus, roasted garlic, beets, tomatoes, artichokes, potatoes, carrots and a suckling pig. It's making us drool just thinking about it.
---