David Koechner talks improv, exploiting yourself to build great characters, and comedy by way of poly-sci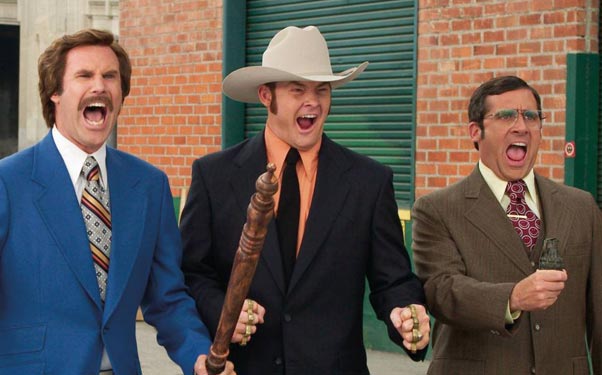 Posted by IFC on
When it comes to comedy, there are all sorts of approaches – not to the material, mind you, but the motivation to do it at all. Some performers are idealists, always in search of an elusive, perfect punchline; others enjoy the nuts and bolts of assembling a routine or a joke that functions on one level and seven others at the same time. For David Koechner, comedy is a simultaneous celebration of personal expression, and a practical way to pay the bills; after abandoning an early career in political science, the "Anchorman: The Legend of Ron Burgundy" and "Final Destination 5" costar found his calling in improvisational comedy, and later, more straightforward acting and stand-up.
IFC caught up with Koechner to talk about his eclectic, constantly expanding career, whose evolution is a byproduct both of his own creative impulses and larger familial obligations. But either way, it's what he loves, even when his convictions tell him to challenge the things that he doesn't – not only in his material, but others' routines, and comedy in general.
---
How did you get started in comedy? Were you always a class clown or what brought you to it, both personally and professionally?
I would say it's probably an accurate description that claims many of us, the class clown thing. I grew up in a small town in Missouri with [a population of] 2000 people, went to Catholic grade school, and I'm one of six kids. That's probably explanation enough right there, right? So yeah, by the time I was in second or third grade, I started realizing that I had a proclivity for making people laugh, and every kid is looking for power, and that's a power base right there.
I think you just have to follow your, I hate to say gift because that seems nearly arrogant, so proclivity to make people laugh, and that's where your power base is, so I continued down that road. I mean, looking back on it, it was pure attention, but you could also get along with everybody if you could make people laugh. So yeah, I was probably the class clown, and then what else happened? I was a poly-sci major in college because coming from a very small town, I had no role models, no one to model myself after because I never knew anyone who was an actor.
I think I went into poly-sci because I knew there was a stage, plus I thought I wanted to help people, and I realized in poly-sci that if you want to be a politician you're either born into it, or you've got an amazing brain, which those are rare – and I don't have one (laughs). So I visited a friend of mine in Chicago and I went to Second City and I noticed they taught classes. I realized, on my God, this is the way to do it – you come here, you learn, and that's how you go on from there. But I've always enjoyed comedy and comedy performers, from the Marx brothers to Abbott and Costello to the original "Saturday Night Live" cast to "Monty Python." I moved to Chicago and started taking classes with Del Close at the Improv Olympic while simultaneously taking classes at Second City, and then I would get all kinds of stage work and classes in Chicago, and then I would eventually get hired by Second City and from there I got hired onto "Saturday Night Live," and from there, everything else.
You mentioned several people that you liked or who inspired you, but were there any comedians or performers whose style you emulated as you were developing your own?
I would probably say Lou Costello was my favorite as a kid. I don't know if that was a style thing, but he was my favorite.
Second City is obviously well-known for being a great destination for improvisational comedy. Was there a point either concurrently or instead of improv comedy that you were interested in doing stand-up?
No, I enjoyed the group aspect of it. You know, looking back on it you kind of know why you go to it, because you're there with someone else – you're not going to fail alone. Although you do or you don't in groups, but I guess there's more comfort, you might say. But I do stand-up now, and I wish I'd done it always. I wish I'd done them simultaneously, stand-up and improv. There used to be a prejudice with improvisers against stand-ups because they looked at them as selfish on the stage, but that's not the case; they had to be quicker.
The major difference is in improvisation, you have to have a developed relationship with the person on stage immediately, right? So I guess I'm more drawn to that because it's more of an actor's art, or I guess more inclined for an actor because for an actor, what's interesting is what kind of relationship you have on stage. And I don't mean lawyer-client, I mean, how you're affecting each other on stage. It's more theatrical, is the shorter way to say it, huh?
Having studied poly-sci before turning to comedy, how much did your sort of pre-comedy experiences find their way into your comedy material? Did you just realize that wasn't your calling and decide to go in a different direction, or did you start out doing stuff like political comedy?
Oh no, I never did political comedy. I've always been politically conscious, but I never did political comedy. On "The Naked Trucker and T-Bone Show," we would have references to Noam Chomsky, so that's about as political as it got, just trying to heighten awareness perhaps of a other person or set of ideals. But I think the only real link would be that improvisation is democratic comedy, right, because you've got to work together.
Absolutely. Through all of your education and training, how formalized did you process become in terms of developing a character, either in an improvisational setting or once you started playing roles in films like "Anchorman"?
I'd say that's where it started with the improvisational training, because that's what you would do – if you can give a character a really strong point of view on stage, you can just sing, because we sometimes are encumbered by our own personal shortcomings, like you choose not to be naked and raw on stage, which would be awesome. Because what you want to have is an honest reaction to anything happening on stage. But what you can also do is play a character, and so I certainly had a lot of fun doing that. That was probably one of my strengths, creating characters who were improvisational.
Would you say your stand-up routine evolved out of your improvisational work?
Actually, it came completely from that. A lot of my stand-up is doing characters that I used to do on stage, like Naked Trucker and T-Bone or a guy I call Jokey, or this other character named Roy. So I do a lot of characters in my stand-up, and I also tell a lot of stories. So a play is a story, so that's how it's affected in that regard.
Was there something in particular that instigated your decision to start doing stand-up in addition to all of the other comedy projects you were working on?
Well, in improv you can't make any money, and I've got a wife and five kids. So it's twofold: A, I'd never done it so I wanted to, and B, its economically viable. I used to go down and do shows for free on Saturday nights doing improvisation, and my wife was like, where are you going? You have five kids – you're not going to go out to an improv show where it costs you thirty dollars because you've got to pay for drinks and parking. But this way I get everything that I want – I get to go out and perform live, because I love that, and it's an economic resource.
How much do you pay attention to the refinement of a joke – the nuances, delivery, even specific words that might make something funnier? Do you think about that consciously, or do you just stay in the moment?
Well, improvisation is all spontaneous and in the moment. You don't write, you just react – and that's what you're supposed to do in acting too. But in stand-up, you do have to refine the joke, work on it, work on it, work on it. Now, the lazy part of me allows the improviser to find it, which is not the best of course, but you can find new material, even improvising on stuff you've already written, plus, you've got a certain stage muscle that's just strong enough where if anything new comes up, it doesn't throw you. You can invite it in and play with it.
Do you see the characters you play in films or on stage, or even as a stand-up, as similar to yourself? Or are they completely separate entities that are figments of your imagination?
Well, I think they all have to be part of you in some way. Usually it's part of your ego in some way, or part of your insecurity, which is the same as your ego, I guess, but you're exploiting a feeling inside you, I guess. That's the least articulate way of expressing it (laughs). But I would say it has to be a part of you to ring true.
Is there a part of you that you specifically keep out of the spotlight or your characters, whether it's something you choose to keep private, or it's just something you don't utilize very much in your comedy work?
I'm sure people around me would wish that were the case, but I always like to have fun. I'm not always on, but I don't mind if a joke seems to be laying there picking it up and saying, there it is! But it's an interesting question. Can you boil that down for me?
Sure. Where do you draw the line between yourself and the characters you play?
I don't really keep any of it to myself. I mean, I tell some deeply personal stuff on stage, even in my stand-up; I talk about how my wife and I had our children. My wife lost her uterus when our first son was born, and we had to go through surrogacy and all of the rest of it to have the other ones, so I talk about that, and it's as personal as it gets. But I don't go so far as to talk about – if I feel like I hold back anything, it's something that would exploit my family, which would be bad. If there's a weakness that my wife or my kids had, I certainly wouldn't expose or explore that. And I stay away from anything mean – I don't do anything mean, and that's just me. I have no judgment against it, but it's just not something I do.
Is there ever too far in comedy?
Yeah. But what is it? I don't know. There's too far in one room or another. You know, in some rooms you can do stuff that's all politically left or all politically right, and everybody would love it, but there has to be the right sensibility in the room. Personally, is there any line? Yeah, Do I have to announce it? No. The line for me is I don't allow things in my life – I don't allow racism or homophobia or misogyny, so that to me, if someone's doing that on stage, I'll call them out. I've done it before.
What about when you're watching something like "Borat," where the character's ignorance actually satirizes racism or prejudice?
Oh, I meant being racist, or being misogynist, or being homophobic in an act. Dealing with those subjects, you must, I feel, right, to try and illuminate all of us, humanity. So if it's done for a purpose, I have no problem with it at all. But if it's done just for meanness or ignorance – I guess a better way to say it is anything done in ignorance, anything that's presented to further glorify and destroy through stereotype, or reinforce an ignorant idea is something I don't like. Anything that's the opposite of that, I would embrace.
What's your favorite David Koechner character? Tell us in the comments below or on Facebook or Twitter.