The 12 most evil movie laughs of all time (with video)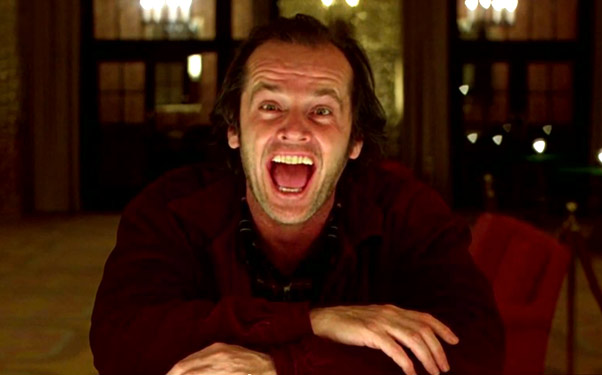 Posted by IFC on
"Mua-ha-ha-ha-ha!" It's harder to do than it seems, which makes having a decent Evil Laugh one of the most underrated skills that an actor (or inanimate object, at that) can have. We're not interested in just "decent," though — we want the best, and here they are, for your moustache-twirling amusement.
---
12. Count Olaf (Jim Carrey) in "Lemony Snicket's A Series of Unfortunate Events"
If at first you don't succeed at an evil laugh, try, try again. Count Olaf (Jim Carrey) demonstrates how practice makes perfect, experimenting with a few variations before ultimately deciding on the one evil laugh he can truly call his own. The criminally underrated "Lemony Snicket's A Series of Unfortunate Events" actually features one of our favorite Jim Carrey performances — Olaf is a delightful ghoul who gleefully conjures a series of macabre methods by which to kill a bunch of orphans and thereby claim their family fortune as his own. Mua-ha-ha indeed! You also get Emily Browning as one of the aforementioned orphans, a few years before she became the pixie cheesecake of Zack Snyder's "Sucker Punch."
---
11. The Predator (Peter Cullen) in "Predator"
The Predator literally gets the last laugh at the end of his first cinematic hunt. The mighty alien hunter is ultimately bested by the skills (and dumb luck) of his human opponent, Dutch (Arnold Schwarzenegger) as a giant tree branch crushes him and effectively ends his killing spree. Dutch moves as if to finish the creature off by smashing in its face with a rock but then pauses to ponder, "What the hell are you?" "What the hell are you?" counters the visitor from outer space, and activates his handy self-destruct mechanism with his bittersweet, triumphant cackle filling the forest. Run, Arnold, run!
---
10. Agent Smith (Hugo Weaving) in "The Matrix Revolutions"
It was immensely satisfying when Agent Smith (Hugo Weaving) finally got to indulge in his own evil laugh — it didn't happen until the third and final film in the "Matrix" series, but it was worth the wait. What finally got the rogue computer virus that looks great in a suit to finally lighten up a little and go full-on maniacal villain-ish? The absorbing of the Oracle herself, the final step in Smith completely taking over the Matrix. And what does Smith then do to the virtual reality program that imprisons so many human minds? He makes it rain a lot. Well, at least he sets a gloomy mood.
---
9. Emperor Palpatine (Ian McDiarmid) in "Star Wars: Episode III – Revenge of the Sith"
The final installment of the "Star Wars" prequel trilogy got all freak show in the final act, with Anakin getting most of his limbs cut off and burning up in molten lava and Palpatine sporting one of the worst special effects makeup jobs in cinematic history after Sam Jackson zaps him with his own Force lightning. The battle between Anakin and Obi-Wan was cool and all, but the duel we were really looking forward to is the one between the newly disfigured Emperor and the pint-sized, ass-kicking Jedi Master, Yoda. After becoming so ugly and sporting a black cloak and hood, how could Palpatine not indulge in evil laughter? If we looked like him, we'd cackle maniacally all day.
---
8. The Joker (Mark Hamill) in "Batman: Mask of the Phantasm"
Both Heath Ledger and Jack Nicholson had great Joker laughs with their respective turns as Batman's number-one arch-enemy, but our all-time favorite Joker laugh definitely belongs to Mark Hamill, who played the role on "Batman: The Animated Series" and in various other incarnations (including the recent video game, "Batman: Arkham Asylum"). His is the laugh we heard in our head whenever we read the many variations of "HAHAHAHAHAHA" in the "Batman" comic books. And his last laugh in the animated feature, "Batman: Mask of the Phantasm," is truly epic.
---
7. Vincent Price in Michael Jackson's "Thriller"
What's better than hearing horror icon Vincent Price say, "To terrorize y'all's neighborhood?" Hearing him laugh his inimitable Vincent Price laugh at the end of the brilliant music video for Michael Jackson's "Thriller." The King of Pop was scary-smart for bringing on both Price and director John Landis ("An American Werewolf in London") to help him bring his "Thriller" vision to life; the result is one of the best music videos — and short films, period, at that — of all time. Price's laugh over the final freeze-frame of Jackson's beastly eyes is truly unsettling.
---