Master makeup artist Rick Baker on "An American Werewolf in London" and "Men in Black III"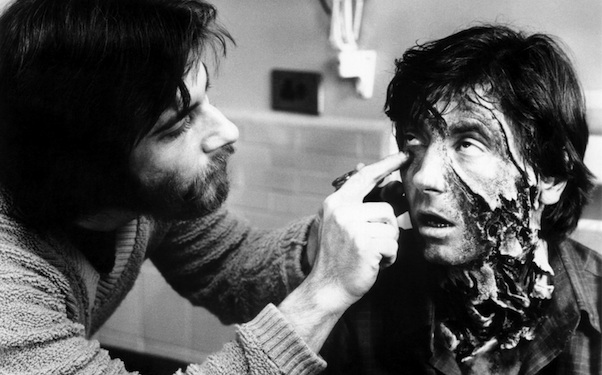 Posted by Matt Singer on
It's hard to believe "An American Werewolf in London" is thirty years old. It looks way too good and scares way too hard to be a three-decade old film. A lot of the credit for the film's longevity goes to the film's master makeup artist Rick Baker, who designed its creatures and engineered the movie's legendary transformation scene. Once you've seen David Naughton become that wolf in "American Werewolf," you never forget it.
Baker came down to Fantastic Fest 2011 to take part in a 30th anniversary screening of "American Werewolf" that included a new ultra rare Mondo print by Olly Moss. Here's a picture. Cue lycanthropic jealousy in 3…2…1….
While Baker was in Austin, I was lucky to get to talk to him for a few minutes. I took the opportunity to discuss the making of one of the greatest horror movies of all time, uncover a few morsels of info about his work in next summer's "Men in Black III," and pick his brain about the most underrated movie makeup of all time.
When was the last time you saw "American Werewolf?"
There was a screening at the New Beverly or the Nuart or something when the Blu-ray came out, and that was fairly recently.
And what did you think seeing it again fairly recently?
I cringe looking at some of the stuff in the transformation.


What?!?
Yeah. It was thirty years ago and I was thirty years old and the average age of my crew was like nineteen. There were kids who had never worked on a film before. I do think it's pretty amazing that people still hold it in pretty high regard, this thing that was done by a thirty year old and nineteen year olds who'd never done this stuff.
Looking back at a thirty year old movie, it can sometimes be hard to tell just what was groundbreaking when it first came out. In your mind, what was the really revolutionary stuff in "American Werewolf?"
People always talk about the transformation, but I think the film was so ahead of its time in so many ways: the blend of horror and comedy and the way music was used. So much was innovative about that film. That's probably why people still like it so much. But it was definitely a showcase for the kind of stuff I do and I was so thankful to have that opportunity.
John Landis wrote this movie when he was a kid. When I did [makeup on] John's first movie "Schlock," when he was twenty-one and I was twenty, he had already written "American Werewolf." We shot the movie he originally wrote back then. The only exception was the porno theater was a cartoon theater in the original script, because it really was a cartoon theater when John was in Piccadilly while he wrote it. It had since changed to a porno theater, so he changed that part. It was one of the few times in my career of forty years working in films that we had a script and we actually shot it.
How collaborative were the creature designs?
I've learned over the years to appreciate John because he comes to work prepared. He wrote the script and he knows what he wants. He would describe the shot to you, he would listen, and he would say things like "You're the expert at what you do and I want you to do it. That's why I hired you."
He gave me a lot of freedom, although I wanted to make the wolf a biped and he said "No, I want this four-legged hound from hell." I kept trying to talk him into the two-legged wolf. "No. Four-legged hound from hell." So I made it. It wasn't like it is today where I have to do 2,000 Photoshops. No, it was just "Make a four-legged hound from hell." So I sculpted it, made a mold, and made it.
I feel like the underrated creature/monster things in "American Werewolf" are the Nazi ghouls in David Naughton's nightmare.

They don't get enough credit for being as truly terrifying as they are.
I wanted to do more. They're basically Halloween masks. They're soft rubber masks that don't move. And John said, "That's all I want. They're going to be seen in really quick cuts so there's no reason to do anything else." But I think they do pretty much look like Halloween masks. It is still a well-done sequence.
But there's something scary about the way they don't move. It makes them seem more unnatural and otherworldly, which fits the fact that it's a dream sequence.
When I do a mask, I do try to put a lot of character and a lot of expression into the sculpt. The bald Nazi guy grimacing with the machine gun, that was me, looking in the mirror making faces and then drawing and sculpting that.
Are you often your own model for a character?
A lot of times, yeah. And I think it's true of a lot of creative people because they're the only ones there when they're working. "What's it look like when a person makes that face?" And you look in the mirror and go from there.
When you say that these days you're doing a lot of Photoshops and thousands of versions of designs, is that for "Men in Black III?"
That's any movie these days.
That's just the way it works now.
Yeah. I've been using Photoshop since 1.0, twenty or twenty-two years ago now. It was love at first sight. Never picked up a computer before that.
It's interesting because I feel like your makeup work is so good that you've become sort of this de facto spokesperson for practical effects. I read interviews where people expect you to defend practical makeup and bash CGI. But you're a guy who likes working with both sets of tools.
That's because I'm a fan of the stuff that happened before me. Jack Pierce, who designed Frankenstein and The Wolf Man and the great Universal monsters, was eventually kicked out of Universal after saving their asses so many times because he didn't change with the times. He was still doing stuff with cotton and collodion when other guys were using foam rubber. That's why he lost his job, so that got tucked away in my brain. I always want to stay on top of things.
It's fun doing new things. It's another trick in the bag of tricks. I think it's a great tool. The thing I dislike about digital is that it's made for sloppy filmmaking because of the fix-it-in-post attitude that has come along with digital. So you don't have to think about it now, you don't make the decision now, you can think about it later and figure it out later. I don't like that. When I did "Schlock" with John, I did two pencil drawings and said "You want this one or this one?" And he said "I like that one better." That's the one I made. On "The Wolfman," for example, I did thousands of drawings. And it was like "Do one in between this one and that one. Now do one in between this one and that one." Because you can. But I loved Photoshop the first time I used it; it was just so freeing to know that I could try things and I could always go back to what I had before, or I could take the eyes from this one and put them on this part of the face on this one.
You mentioned the famous Pierce makeups, Frankenstein and The Wolf Man. We all know those. What's a great example of movie makeup that's underrated, that never gets the recognition that it really deserves?
That's a good question. In general, the things that don't get appreciated are the human kind of makeups. The things I always liked so much about Dick Smith was he could make human makeup work. Dick was the master of doing nice, subtle makeup. People always go "Oh yeah, a werewolf, cool. Aliens, cool." Real cool is the Father Merrin makeup in "The Exorcist." Most people who saw the film didn't know that was a younger man playing an older man. That's one of the ones that gets appreciated by a lot of makeup artists.
All right, so "Men in Black III" is next. What should we expect from the movie?
I made, at last count, 105 aliens. A lot of aliens, a lot of crazy stuff.
Should we count all 105 while we're watching the movie?
[laughs] We'll see how many make the final cut. Something I've learned from working on the other "Men in Black"s is that we'll do aliens as if you're making a whole movie about this specific alien. It will good enough to hold any kind of close-up, and it's usually in a panning shot for two seconds, or it's so far in the background you don't even know it's there until you watch it 47 times, which I guess is part of the success of the series. It is cool to spot things you never saw before.
What drives you to pick a project at this point? Is it the director? Is it the material?
I'm definitely at a point in my life where I'm trying to be a little more selective. When my parents died, it became clear to me that there was an end in sight. Death was never a real thing to me. And then when that happened I realized I only have so many years left, if I'm lucky. I don't want to be doing movies that I don't want to do. They take so much out of you. I took some time off and got rid of crew that I kept on for fifteen years. And people don't call as much anymore, actually.
What?
Yeah. I think when my name comes up my competitors say "Oh yeah, he's retired!" Or they say "I'm sure he won't want to do this movie because he's too big to do this." "Men in Black III" they called me, and I was really happy to do it because I really enjoyed doing the other films. It felt great to be part of it again.
Is there a technical challenge that you've never done that you still feel like you need to conquer?
If I died today I would be happy with what I've done in my life. But I hope I don't die today.
Where's "American Werewolf in London" rank amongst your favorite horror films? Tell us in the comments below or on Facebook and Twitter.