Our 15 favorite movie knife scenes (with video)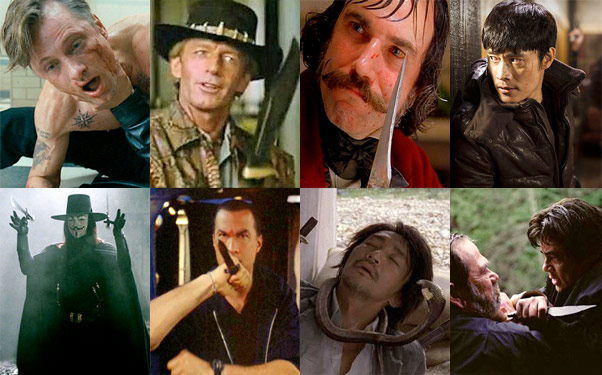 Posted by IFC on
You can't beat a good knife scene. Here are some of the sharpest moments in cinema, from the knife-fighting of "The Hunted" to the knife-throwing of "Gangs of New York" to the naked bathhouse brawling (involving knives) in "Eastern Promises." Oh, and 'Crocodile' Dundee is around here somewhere, too.
---
"'Crocodile' Dundee" (1986)
The knife joke in "Crocodile Dundee" provides one of the movie's biggest laughs, as Mick Dundee (Paul Hogan) and his American sweetie (Linda Kozlowski) are confronted on the mean streets of '80s New York City by a perfectly costume-designed thug with a switchblade who demands our hero's wallet. Kozlowski vies for an Oscar here with her super-intense "Mick. Give him your wallet. He's GOT a KNIFE." "That's not a knife," says the mighty hunter, and… well, you know the rest. Just kids havin' fun.
---
"Kick-Ass" (2010)
The freaky little comic book movie that just wants to be loved succeeds every now and then in getting a big hug from the audience with a few choice moments, most of them involving the father-daughter crimefighting duo of Big Daddy (Nicolas Cage) and Hit Girl (Chloe Grace Moretz). Hit Girl gets the best birthday present ever from her proud papa: a Balisong, a weapon more commonly known as a "butterfly knife." The young superheroine shows off her excellent technique with the blade as her father gives her a pop quiz — one of the questions is a wink-wink reference to Cage's two-time director, John Woo, who knows a thing or two about knives himself.
---
"Under Siege" (1992)
"All your ridiculous, pitiful antics aren't gonna change a thing." That's Shakespeare-level dialogue for Steven Seagal, and this poke to the villainous Tommy Lee Jones in what's probably the best Seagal movie out there prompts a brief but impressive knife fight filled with nifty "whoosh-whoosh" sound design — Jones is allowed one nick to his opponent's face before he gets a finger jammed through his eye socket and a blade through his skull. As bombastic and theatrical as Jones was in his performance, you'd think his character would've gotten a more epic send-off, but alas, it's a quick one — that's how it goes out at sea sometimes.
---
"Gangs of New York" (2002)
Daniel Day-Lewis is a squinting maniac as Bill 'The Butcher' Cutting in Martin Scorsese's flawed almost-masterpiece, throwing knives at hot girls like Cameron Diaz all to and fro. Bill's none too happy with his "former assistant in manners of impalement" now that she's banging Leonardo DiCaprio, and he takes it out on his once-apprentice and lover by having his blades land a little too close for comfort, much to the delight of the audience and the concern of Leo. Nothing signifies an official break-up quite like impaling a gal's locket with a knife: "Whoopsie daisy, now it's good and broke!"
---
"The Hunted" (2003)
Go Tommy Lee Jones! The old man proves he's still got it as he engages (as the hero this time) in a one-on-one knife fight with Benicio Del Toro, who plays, like, the best knife fighter on the planet or something in William Friedkin's military thriller. These two go at it for almost four solid minutes, stabbing each other multiple times as a waterfall gushes nearby (somewhat distracting scenery that the scene really doesn't need). Any normal person would've been dead within the first few seconds of this battle, but these guys are only vaguely affected by things like "blood loss." Speaking of which, the bit where Del Toro blinds Jones with his own blood is a nice gruesome touch.
---