'FemShep' Becoming a Cover Girl for "Mass Effect 3"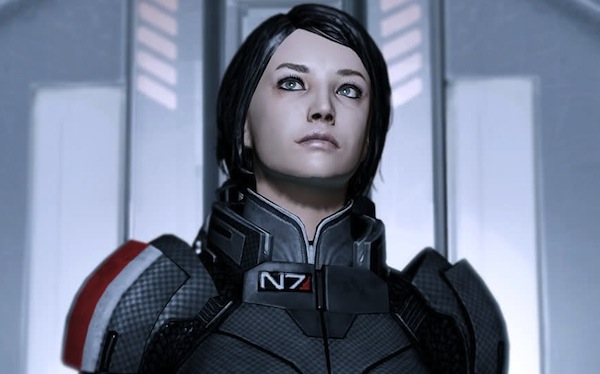 Posted by Evan Narcisse on
I've written in passing before about how camps of "Mass Effect" fans align themselves around the voice actors who perform as the male and female versions of lead character Commander Shepard. The masculine iteration of Shepard gets voiced by Mark Meer and the distaff version comes to life courtesy of Jennifer Hale. They're both veteran performers but it's been Meer's MaleShep who's been the face of the franchise, with his voice carrying every trailer and commercial that every been made for the series. FemShep fans have long argued that Hale's work surpasses Meer's when it comes to the line readings each gives Shepard. In fact, many gamers say that Hale's not only the better Shepard, but is one of the best actors working in games today. You can see for yourself in the videos below.
Thus, FemShep loyalists everywhere claimed victory when word that their girl would grace the cover of the collector's edition of "Mass Effect 3" alongside the male version of the character. BioWare director of marketing David Silverman confirmed reports on Twitter, in answer to fans who wanted a trailer with the female Shepard:
there will be a #FemShep trailer. We actually had a meeting on her yesterday. We are working on the look now.
both #MaleShep and #FemShep are featured on the CE. One side male, one side female.
Who's on the front of a video game box and in marketing materials acts as a signifier. It's not just a way of telling you who the hero is in a particular game; that character can also act a stand-in for who the purveyor wants to buy the game. I'm not accusing any publisher of any -ism, but the safest way to broad appeal is to put Standard Issue White Guy #38–hasn't shaven for three days, short, dark hair, devil-may-care smirk, maybe a scar for character–on your cover. Whether they like it or not, consumers understand that SIWG #38 is the default and there may not even be another option. The argument for the FemShep brigade has been that their avatars have been another, superior option as the face of "Mass Effect," so it's nice to see BioWare acknowledging that segment of fans and Hale's work. Of course, this could be the ultimate in marketing traps, aiming to sucker in a slavishly devoted sector of fans. But, in a game where you create a character to save the universe from a marauding race of sentient machines, the face of the franchise needn't be restricted to just one type. Between this development and the expansion to same-sex romance options for both genders, "Mass Effect 3" may wind up being a utopia after all, provided humanity survives.
Jennifer Hale fans, are you going to pre-order "Mass Effect 3" to get the FemShep cover? Let us know in the comments below or on Facebook or Twitter.