A Brief Interview With Rhett and Link, Commercial Kings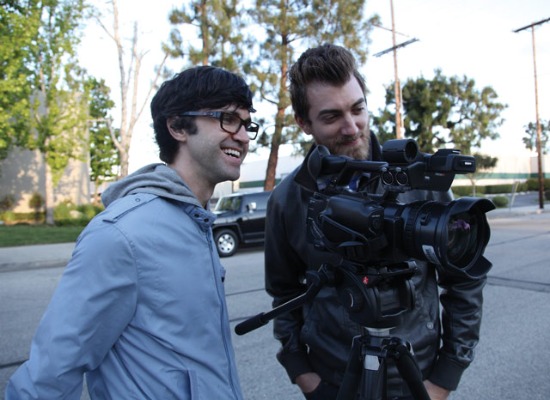 Posted by Melissa Locker on
Tonight at 10 p.m. ET "Rhett & Link: Commercial Kings" premieres on IFC. The show follows lifelong best friends, Rhett McLaughlin and Link Neal as they travel the country making commercials for deserving local businesses. The duo are bonafide YouTube superstars with more than 90 million combined video views. Tonight they will now bring their skills to a national television audience.
We sat down with Rhett and Link to talk about commercials, colonics, and showering separately.
Can you tell us a bit about yourselves?
Link: We've been best friends since first grade, so we have the same interests. But he has a beard. He's taller, too. We're both from a little town called Buies Creek in North Carolina and we met the first day of first grade. We've been friends ever since.
Wait …does that mean your Wikipedia entry is actually true?
Link: We brag about that at parties.
Rhett: We wrote it ourselves.
Link: I don't think you're supposed to admit that.
Rhett: Link is more anal than I am. Also, shorter.
Link: I'm shorter, but smarter.
Where did the idea to make local commercials start?
Link: It started …well we had been making web videos for a few years. Then we had an idea to make a spoof of a local commercial. We had access to a seafood warehouse …
You had access to a seafood warehouse?
Link: We were on an Alka Seltzer sponsored road trip and we were making food related videos. And we wanted to make a spoof of it with Christopher Walken trying to do a Boston accent. It was horrible. Rhett was in a lobster suit. We posted it online and called it the worst local commercial ever. Then we started to get a lot of comments from people asking, "Is this real?" People wanted it to be real.
Rhett: People really responded to it so we decided to start making real local commercials for real businesses with real people. From that came the series "I Love Local Commercials" and we put them on YouTube. Real businesses, real employees.
Link: If you search for local commercials, you find people doing spoofs. Not real actors, not real business. We were the only people doing actual local commercials for real businesses with real people. Once we started doing them we kind of cracked the code.
What's your favorite commercial so far?
Link: Red House Furniture. You can have a different favorite, Rhett. For me, combining racial reconciliation with furniture was a dream come true. Then it got re-tweeted by Weird Al.
Rhett: I have to go with Rudy the used car salesman. The reason that is my favorite is because Rudy is from Cuba and he is a gynecologist and keeps a stethoscope in his desk at the used car lot. We didn't go in there thinking, oh let's make this guy a gynecologist. Truth is stranger than fiction. Wherever we go there are small businesses needing help. There's a hot yoga studio in Sacramento owned by a couple who are over 70 years old. Bill has a military background. He used to teach people to kill now to heal. We created the most carnage-laden yoga commercial ever.
What is your process making these local commercials?
Link: We show up in town, assess the marketing challenges, get to know the business owners personally. We ask a lot of questions. When we were making the Holiday Hotel for Cats ad in L.A., which will be featured in the first episode, we saw that Margaret spoke audibly to the cats. We were trying to figure out how to incorporate that and we realized, if she speaks to cats, why not bypass the cat owners and go directly to the cats? Then we had to figure out how do you get a cat to look at the screen? The ad became for cats by cats.
Rhett: Margaret only speaks in these general MEOW noises. So we brought in a cat psychic to read the thoughts of the cats and she spoke to the cats telepathically — or she thinks she is. The cats wrote the script for the commercial.
Link: Usually within 48 hours we've got the whole commercial. It's just like "48 Hours." I'm Nick Nolte and Eddie Murphy is Rhett.
Have you ever used any of the services you advertise?
Rhett: Just this morning I came back from a hot yoga class. You have to experience the businesses first hand to understand the challenges and opportunities faced by each owner. It's market research. Once we were doing a commercial for a hydro-colonic place and we let them colonize us. On camera. We got our colons hydrated. Haven't made another appointment, but I'm thinking about it.
Link: It's all in the name of market research. You'll see on the show that we made an ad for a biodegradable casket company called Bury Me Naturally. We decided that one of us needed to be buried alive to test the product and Rhett s too big. The one thing I learned: Next time I'll be buried is when I'm dead.
Rhett: We had to dig him up.
People frequently say your ads are made on a shoestring budget, but how little does it actually cost to make one of your spots?
Link: Most are free. We bring our own equipment.
Rhett: In the Presidential Car Wash commercial we got them to dress up as the presidents featured on Mt. Rushmore, so we had to buy the president costumes. It was worth the expense. They were rapping presidents. You wanted them to look the part.
When you are making the commercials do you ever think, oh man, if we had more money I would add this.
Link: We embrace the shoe-string budget. We like being limited by the constraints. It inspires creativity. I don't know what we would spend money on. We don't hire actors. We see budget constraints as a personal challenge. We're like survivalist local commercial directors.
Rhett: When we made the Heavy Hill commercial. He had a pet mule! We're not going to show up somewhere where someone has a mule and not use the mule.
Link: But he can't be a mule, he has to a unicorn. He had a bunch of aluminum foil and we took a paper towel roll and his mule becomes the trashicorn.
What major corporation would you like to make an ad for?
Link: We don't really want to work for a corporation, however we do aspire to one day make a barbecue sauce that doubles as a cologne and we would like to promote that ourselves. We would like to create a cologne barbecue sauce benchmark of success.
Rhett: I think someone should let us do a Superbowl commercial. They would pay for the airtime and we would show one of our ads.
Do your parents understand what you do for a living?
Rhett: Yes, they do. It took a couple of explanations, but now they get it.
Your songs, like such as the Facebook Song and the American Idol Song have proven to be among their most popular videos, do you have musical training at all?
Link: We have hours upon hours of experience listening to the radio and singing in the shower.
Rhett: Separately. We sing in the shower separately.
"Rhett & Link: Commercial Kings" premieres tonight on IFC at 10 p.m ET; You can watch live with Rhett & Link on IFC.com at 10:30 p.m. ET