Before There Was 'Portlandia', There Was 'Thunderant'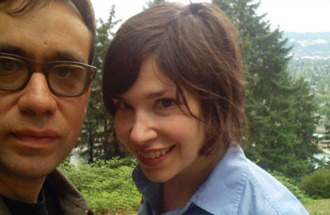 Posted by Melissa Locker on
We can't wait for Portlandia to hit our airways. The show features Carrie Brownstein of Sleater-Kinney fame and Fred Armisen, the once and future Barack Obama on Saturday Night Live in a sketch comedy show dedicated to gently skewering Portland, Oregon.
Unfortunately it won't be on the air until January, so we have to bide our time with Thunderant. No, not Thundermuscle. Thunderant is Fred and Carrie's sketch comedy duo that was the predecessor to Portlandia. In fact, if you are a Thunderant devotee, you may recognize some of the characters in Portlandia. To help prepare you for the silly stereotypes and seriously fun personalities that fill Portlandia, we have put together a few of our favorite Thunderant sketches. If you watch them now, think how cool you'll be in January when you can tell your friends, "Oh yeah, I know all about Thunderant."
Stay tuned to IFC and we will let you know when Portlandia is ready to make you laugh, cringe, and hopefully make you not want to move to Portland.
Feminist Bookstore:
The Perfect Song:
Katchenza:
Pet Haven:
Bicycle Rights: