Spend the Evening with Drag Queens on Film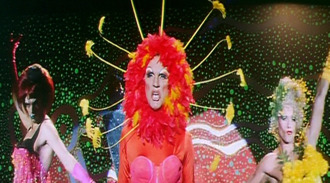 Posted by Melissa Locker on
Today on IFC we are showing three films that documents life as a transvestite in England and Australia. Put on your feather boas, fake eyelashes, and thinking caps as the movies show the struggle of coming of age as a cross dresser, coming to terms with diverse sexuality in small towns, religion, acceptance, and re-thinking gender roles, love, and life. Heady stuff, even if the head is topped with pink flamingo feathers.
Director Neil Jordan (The Crying Game) brings us Breakfast on Pluto, which combines the worlds of IRA gun runners and nightclub performers with surprising ease and panache. The film stars Cillian Murphy as Patrick Braden, a foundling who flees a bleak existence in Ireland for a life in London as a transvestite prostitute. His path crosses with the aforementioned gunrunning nightclub performer and then with Bertie (played by Stephen Rea), a small time magician. Politics, performance, and passions all intersect in the underworld of London in the 1970s.
Based on the success of their drag act in Sydney, Mitzi (Hugo Weaving) and Felicia (Guy Pearce) get an offer to perform at a casino in the remote town of Alice Springs. Their friend, the aging grande dame Bernadette, played by Terence Stamp, decides to tag along as they tour the outskirts of Australia in the lavender bus they've dubbed Priscilla. The story is about friendship, love, and aging as much as it is about performance and the ending is a sweet surprise.
In Kinky Boots, the future of a small English town hangs in the balance when the local factory starts to falter. The owner, Charlie Price (Joel Edgerton), needs to come up with something truly groundbreaking to keep the factory (and the town) alive. When Lola (Chiwetel Ejiofor), a design savvy female impersonator, concocts an inventive plan, he listens.
Breakfast on Pluto is on IFC at 5:45 p.m. ET; The Adventures of Priscilla, Queen of the Desert airs at 8 p.m. ET.; and Kinky Boots starts at 9:45 p.m. ET.