Exclusive Online Premiere: "Rio Breaks," a Story of Surfing and the Favelas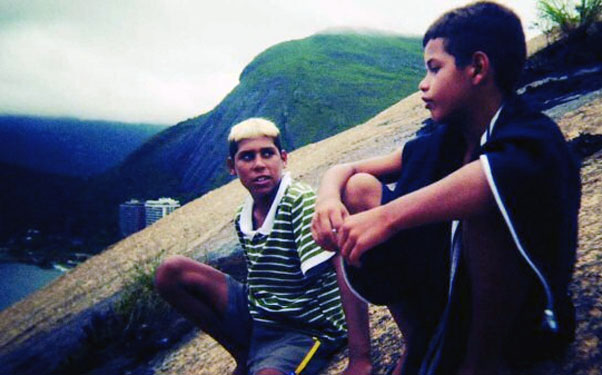 Posted by Alison Willmore on
Update: The free screening of "Rio Breaks" is now over — thanks to everyone who watched!
There's no shortage of gorgeous surfing documentaries out there. "Rio Breaks," directed by Justin Mitchell and newly available on DVD from Factory 25, aims for something beyond just stunning surf footage, following two boys growing up in one of Rio de Janeiro's most dangerous, drug gang-infested favelas. For Fabio and Naama, surfing provides a temporary escape — and possibly a permanent one, if they can manage to navigate their way onto the pro circuit.
This week only, you can watch "Rio Breaks" in its entirety below — if you enjoy the film, consider picking up the DVD.
Here's a statement from director Justin Mitchell:
When I first decided to make a surf film, I knew that I needed to find a story to tell where surfing was the thread rather than the focus. That, and the story couldn't be yet another tale of following pro surfers around the world to top surf spots — we've seen that a million times. So when I read Vince Medeiros' magazine article back in 2003 about a favela surf club for kids operating out of the violent hills of Rio de Janeiro, I knew right away that I'd found something special. I immediately contacted Vince in London and somehow convinced him that we had to turn his article into a feature length documentary. Seven years later — here is "Rio Breaks."

In the film, surfing, both the act itself and the lifestyle that comes along with committing yourself to it, is something that can keep these kids from dying with a gun in their hand. So surfing is the thread of the film and for our main characters, Fabio and Naama, it's the thing keeping them going as we follow them through a critical year in their lives. Sure, there are lots of other activities that keep kids out of trouble but just imagine what happens in Rio when a favela kid encounters that overwhelming joy of riding a wave. Just with any surfer, when you're on that wave, nothing else matters. You're not thinking about anything, just the ride in front of you. And for a favela kid, whether it be for just a moment, a summer, a year or a whole lifetime, to be able focus on something other than the poverty, the drugs, the guns — that's a pretty powerful thing. That's what we were trying to capture, how surfing could actually make a difference in these kids' lives.

One side note: the story of "Rio Breaks" didn't end with the film. Earlier this year, Luciano Huck, host of one of Brazil's most popular TV shows, watched the film, dug it and decided to help out. In the show Luciano surprises Naama when he and his TV crew stop by Naama's house in the favela. At the end of the visit, he says he'll take Naama to Hawaii and also introduce him to Kelly Slater. (In the film, Naama says he doesn't believe there are big waves in Hawaii and he'd like to see for himself.) In exchange, Naama had to promise not to join the drug gang, to keep going to school and to learn English. Naama's meeting with Slater is pretty incredible, truly heart breaking. On their return, Luciano buys the family an apartment, moving Naama and his family out of the favela. The TV presenter has also fully refurbished the surf club. They can now shape surfboards, it has a screening room, dressing room and everything needed to operate as a real surf club. Amazing.

–Justin Mitchell, Director
RioBreaks.com / Facebook.com/RioBreaks / Twitter.com/JustinMitchell