Miyazaki's 'Spirited Away': A New Alice in Wonderland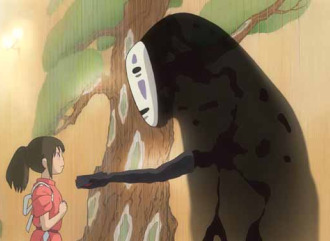 Posted by Melissa Locker on
I'm just going to say it: Hayao Miyazaki is one of the best cinematic storytellers in the world. His movies create fantastic worlds where anything can happen and usually does. Magic exists side by side with the workaday world and none of the denizens seems to particularly mind if a girl walks out of the ocean or if house walks away. Miyazaki spins dark tales of wonder that are simply mesmerizing to watch, even if you don't fully understand the plots or characters. The questions just add to the experience.
'Spirited Away' is a follow up of sorts to Miyazaki's environmental tale 'Princess Mononoke'. The star is Chihiro (voiced by Daveigh Chase) who is stuck on a boring vacation when her family takes a wrong turn. As with many adventures, a wrong turn is all it takes to cast the family into a strange abandoned world inhabited by strange spirits. When darkness falls, Chihiro's parents are transformed (note: when in magical worlds, always listen to your children) and she is left to fend for herself in a dark and strange world ruled by a cruel witch and populated with spirits, deities, and, yes, a giant radish. Luckily Chihiro is a very clever girl who is quite good at taking care of herself, especially with the help of magical friends.
Miyazaki's worlds are strange places, but they are lush and easily as fascinating as the world Lewis Carroll created in 'Alice in Wonderland'. They are stark and occasionally terrifying but filled with wonderment around every corner, which is a lot like childhood. The film is dark and a little scary, which is almost unexpected for American audiences of animated films. In fact, it is not intended for young children at all. But don't think that adults won't love the movie. In fact, 'Spirited Away' was more popular in Japan than 'Titanic' and was the highest grossing film in Japanese box-office history.
Watch the trailer and then tune in. You won't be disappointed:

Spirited Away airs on IFC at 2:15 p.m. ET, with encore performances on August 27th at 6:15 a.m. and 2:45 p.m. Schedule your DVR accordingly.