Mélanie Laurent's Grand Performance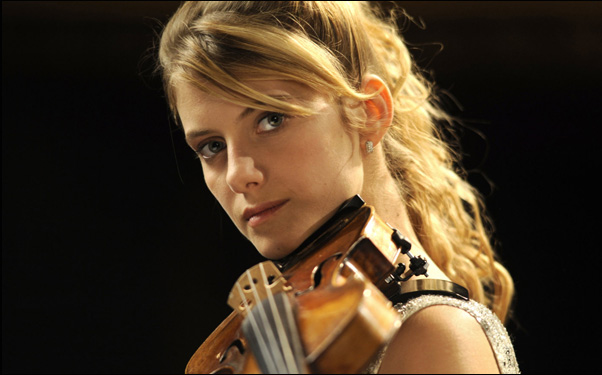 Posted by Bilge Ebiri on
Christoph Waltz may have won the Oscar and Michael Fassbender may have nailed the dry British accent, but to many, the true breakthrough performance of last year's "Inglourious Basterds" belonged to Mélanie Laurent, who as the beautiful but deadly Shosanna Dreyfus held that film's revenge narrative together with her hypnotically vengeful blue eyes. Now, the 27-year-old French actress is back in Radu Mihaileanu's "The Concert," a César winner in her home country.
Following a group of has-been Russian musicians who travel to Paris posing as the Bolshoi Orchestra, this heartwarming fish-out-of-water comedy is a far cry from the stylized scalpings and revenge-drenched delirium of Tarantino's film. But again, Laurent becomes the center around which the narrative turns — this time, she plays a world famous violinist who has to be persuaded to play with our heroes, and who in turn discovers some hidden truths about herself. It's also, in some senses, a part quite close to her heart, as Laurent is also an accomplished musician herself, and currently at work on her first album, to be released next year. We recently spoke to Laurent about her new film, how Quentin Tarantino changed her life, and her music.
So, how much violin do you actually play? Because this film makes you look like pretty much the greatest violin player in the world.
I hate having to tell people how we did it. My left hand is fake, but my right hand is real. My left hand is a special effect. My right hand is on the violin, and it has to be in the right places, and it has to hit the right notes. I had to learn how to play these pieces, but in two months you can't learn to play them with both hands. So I only learned the one hand. I do play the piano quite well. But trust me, it's very different.
Your parents are also in the arts. Your mother was a ballerina, and your father is a vocal artist who is the voice of Ned Flanders on the French version of "The Simpsons."
Yes, my mother was a ballerina, and then she was a teacher. And I grew up with a father who always did lots of cartoons, so I would turn on the TV and I'd say, "Oh, it's my dad!" And when he read me stories, he used to make different voices. So I had a very amazing and funny childhood, thanks to them.
Did they have anything to do with your choosing to become an actor?
It wasn't so much their influence. When I was 14 years old, I visited a movie set with a friend at that time whose father was a technician. The movie was "Asterix and Obelix," and Gérard Depardieu was the star. Depardieu came and asked me if I wanted to be in a movie. That's how it began. My parents always supported me after that, but they never pushed me into acting, or anything like that.
Your performance in "The Concert" is quite interesting, because it involves relatively little dialogue. You're mostly reacting — reacting to the stories the film's lead character tells you, reacting to the music. And, during the climactic concert scene, you have to react while playing the violin to a message you hear, literally, through the music. It seems like it must have been a challenge to do so much emoting without the benefit of dialogue.
For that final scene, I was so moved to be on stage. Everybody had waited so long for that scene, which was the last two weeks of shooting. We had shot the movie, and we just had the concert. I had two months of preparation for playing the violin. So I was focused on my playing. It was easy to just react to the Maestro and what he said.
For me, the hard part was the violin. All that sort of thing, when it's a good script, and it's a good story, it's not that difficult. It's more difficult when it's not a good script and you have to have a lot of stupid reactions. But when you have a good script and you're in this beautiful theater and you have an orchestra behind you – it's easy to be moved.
Your character also has to undergo a pretty striking change, from very severe to total emotional openness.
That was the most difficult part for me, to be strict and focused as a character. I always wanted to be nice, but the director wanted this character to be a certain way. So it was a little bit painful for me. I think that's also why the concert parts were easier for me. There I could open up.
What is Radu Mihaileanu like as a director?
He focuses you. He knows what he wants. He doesn't trust you all the time, which can be difficult. He's a very clever and very amazing director, but he's not that easy to communicate with. He was not a hard director, so it wasn't painful working with him or anything like that. It's just that sometimes a director and an actor don't always understand each other. I wasn't surprised or anything. You're on set, you know why you're on set, you know why you're on set with that guy — even though it's not that easy to talk to him sometimes. I will do my stuff, and he will direct me. I like him as a human being, so it's strange for me. And I'm very proud of the movie, and that's what's important.
He sounds very different from Quentin Tarantino.
Quentin is an amazing person. I just loved working with him. He also knows exactly what he wants, but he's very clear. He'll come to you and say one word — and that word will change the whole sequence. He's so clear. He's crazy, too, but I loved that kind of craziness. The best example was during my big scene at the beginning of the movie, where I'm running away from the Nazis. He had prepared the traveling shot to follow me when I'm running. And he yelled action, and he ran along with me. I thought that was wonderful.
Maybe it's because he too is an actor, so he understands what actors want and need?
Yes. And I loved him as an actor. [Laughs]
Although they're obviously very different films, "Inglourious Basterds" and "The Concert" do have some strange similarities – both follow these groups of misfits as they prepare for a climactic event, which then becomes the big, final act of the film. And they both involve issues of anti-Semitism.
Last year was so special for me. I did "The Concert," I did "Inglourious Basterds," and after that I did this movie called "The Round-Up," which is about the Second World War, and about the deportation of young children. So it was kind of a strange year, to do these strong and powerful movies. They're very different, obviously, but they're about these heavy and important subjects.
You've also done some directing. How have these experiences on these big films changed you as a director?
Ask me the question in one year, because I'm going to direct a new movie in five months. But I did observe a lot of Quentin's work. I didn't want to go back to my trailer, so I would sit in the corner and observe. It was kind of like having a great teacher in a university. So I took a lot of notes. I learned from him that you need to be a real captain if you want to make a movie — it doesn't matter if it's a big movie or a small independent movie. You have to be a leader.
I remember him giving us a debriefing every morning, and telling everybody, "Okay, we'll do it like this, and this, and this…" He would share his ideas with all this crew. So everybody would feel that they were a part of this movie, that it was something special.
When you have somebody open up like that, it stops being just another movie for the people working on it. So, now, I think I can be a little bit crazy like him. When he talks, it's very visual. It's so passionate. I just discovered that I now talk a lot like him, almost like a child. So this will be a big step to direct my movie after watching him work.
Were you at all prepared for success of "Inglourious Basterds"?
No. Every time I play in a movie, I never expect that it'll be huge. I don't like thinking about that, because it's so scary. I did a big tour with everybody from "Inglourious Basterds," which was really amazing. We went everywhere, around the world. That was great to be able to stand in front of everybody and talk about this movie. But after that I came back to France, and I just wanted to work on small projects. It was a way of protecting myself, in a way.
So, what can you tell me about this album you're working on?
I'm working with Damien Rice, and we're almost done. We've been working for the last year. We'll be mixing it in September. I think it'll be released next year, and I'll go on tour with it. It's funny – the lyrics are French, but the music is pop, rock, so it sounds like English music. I can't think of anyone to compare it to, though.
"The Concert" is now open in New York and Los Angeles.