Thanks, But No Thanks, Lady Gaga – Time to Hang It Up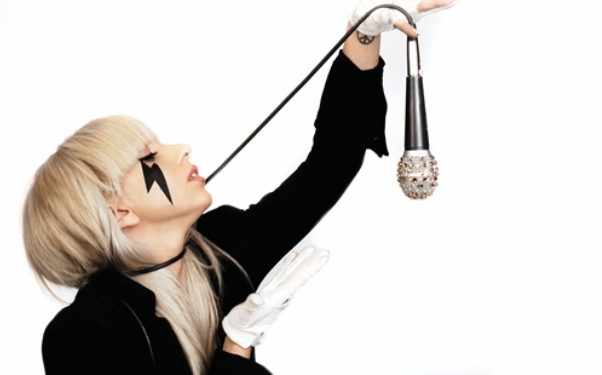 Posted by Brandon Kim on
I've been going along happily ignorant of Lady Gaga my whole life until fairly recently. It was only last Spring someone asked me, "Who the hell is that guy?" I had no answer. Some chick named Perez Hilton had endorsed her, that's all I knew. But, no matter how hard you may try, you can't stay ignorant of such a pop cultural force for long. And a force she is, I'll be the first to admit.
So, enlightened to the basics — girl from the Upper East Side who likes to wear costumes makes hideously grating club music — I've since gone along happily ignoring her, and the accompanying dance hits, ubiquitous as they are. But I've just reached the edge of my limit. First it was my Grandfather, a 90 year-old veteran of WWII, bringing her up in conversation by name. Second is this rumor that David Bowie is pitching in on her third album.
Idolator reported coming across a document that shows Bowie "listed as co-producer, guitar and vocals on a track titled 'Vinyl'…as well as one called 'Born This Way' and 'Hooker On A Church Corner.'" It was also noted that, "If this is for real, we could definitely see why Gaga would call her third album 'my best work to date.'"
Hopefully it's not for real because it would be a sad day for the legacy of David Bowie, next to whom Gaga's music sounds like the crack rock jingles blaring from an ice cream truck that sells crack rocks, and sometimes ice cream, to the kids in my neighborhood. By the way, what's she going to say other than it's her best work to date, that it's her most middling? Her most annoying nu-Madonna work to date? I'm sure every morning when she drops a clutch of dingle berries in the can, she proclaims it's her best work to date.
Another pop star, the more interesting M.I.A. recently took exception to Gaga as well. She went off to Time Out about how Oprah, "Made this huge speech at the ball praising Lady Gaga and about how she [Gaga] is helping Americans to be the best of themselves." She went on to say, "There's millions of other Americans who represent that for me. It's about numbers? About how much you're selling? Is it truly about the journey? Because [Gaga's] journey isn't that difficult: to go from the fucking Upper East Side to a fucking performing arts school and on to a stage at the museum of fucking wherever. That journey's about four miles."
Oh snap. Maybe it's not all that fair though, who cares where she's from and how far she had to go? But helping Americans be our best? Oprah please. I'm not sure where praise of that magnitude comes from. Gaga's outspoken about gay rights but that's nothing to be applauded over — what rational, fair minded person isn't?
Maybe Gaga herself can enlighten us as to why she deserves such attention. The enormous bio she has on her website is not conducive to reading, inexplicably all in caps, but fear not I have taken some bits and placed them here.
"IT'S NOT JUST ABOUT THE MUSIC. IT'S ABOUT THE PERFORMANCE, THE ATTITUDE, THE LOOK; IT'S EVERYTHING," she explains. And on her purpose states, "POP CULTURE IS ART. IT DOESN'T MAKE YOU COOL TO HATE POP CULTURE, SO I EMBRACED IT AND YOU HEAR IT ALL OVER THE FAME (her debut album). BUT IT'S A SHARABLE FAME. I WANT TO INVITE YOU ALL TO THE PARTY. I WANT PEOPLE TO FEEL A PART OF THIS LIFESTYLE."
I don't know why she's yelling but it seemed an appropriate excerpt to print. And fair too. Well, thanks but no, Gaga. I don't want to be a part of your lifestyle anymore than I want that ice cream truck playing it's goddamn jingle outside. But both of you are 24/7, and the kids, they just don't know any better. So hang it up for a while, they don't need another 8 song "album" released on them, Bowie or no.
Update: David Bowie refutes the rumor that he's collaborating with Gaga as completely false.