Revived and Derived: "Freaks and Geeks" Ep. 6, "I'm With the Band"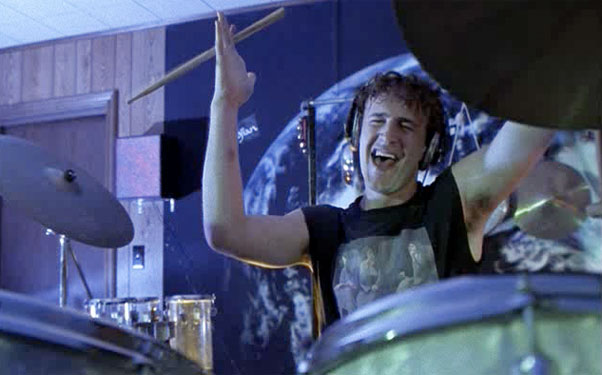 Posted by Alison Willmore on
"Freaks and Geeks" is now airing on IFC, and we thought we'd take this opportunity to revisit the show that launched a thousand bromance movies. Every week, Matt Singer and Alison Willmore will be offering their thoughts on that night's episode.
Episode 6: I'm With the Band
Directed by Judd Apatow
Written by Gabe Sachs and Jeff Judah

Originally aired November 13, 1999
"Hey, I want to play it again. Put more dry ice in the bucket!" — Nick
Alison: Matt, I may have told you in passing that I thought "Beers and Weirs" was the series' most painfully awkward episode. Obviously, I was wrong. "I'm With the Band" is an absolute symphony of watch-with-your-hands-over-your-eyes moments, culminating in two sequences in which characters venture into new experiences and are rewarded with reoccurring nightmare-type outcomes.
Let's start with the geeks. The show has established Sam's discomfort with his own pre-pubescent physicality (and physicality in general) before, and in this episode he's put in a position where he's forced to face it — literally, in the case of Harris wanting to chat foreign language classes while walking around au naturel after P.E. (I'll never tire of Harris' unflappable self-possession, his nerd zen.)
And at first, the geeks' storyline appears to be another, and at this point somewhat repetitive, look at the ritual humiliations inherent to the high school experience. Locker rooms are bad enough, but shared showers are torture for the self-conscious, and Sam gives it his all to avoid them with a series of poorly conceived plans — was he hoping to hide in the bathroom stall every day for the next few years?
Everything seems to ramping up to Sam's successful completing of his ablutions and realizing that a little nudity's not that big a deal, that everyone's bodies are unique and beautiful things, blah, blah — but no. Instead of ending in anticlimactic self-acceptance, Sam's slow motion walk to the shower, set, splendidly, to Cream's "White Room," climaxes in the stuff a lifetime's worth of stress dreams are made of, with Sam running naked through the hallways of William McKinley High School, wearing nothing but a blue censored-for-network-sensibilities dot. Eek! And, oh, the look of contorted agony on John Francis Daley's face, especially when he spots Cindy at her locker!
Matt, both Sam and Lindsay get let off the hook at this episode's end — Sam because his classmates assumes he was intentionally streaking, and Lindsay, after Yoko-ing the band into temporarily breaking up, because she kisses Nick and provides new potential drama to replace the drama she set in motion. Does it all seem a little too easy, or do these things come to us, as to the characters, as a thankful relief? Lindsay's actions, certainly, will have larger consequences.
Matt: They definitely will. To your question, let's look at each example individually. In Sam's case, that truly nightmarish scenario does flip pretty quickly from therapy sesson fodder to high school urban legend. Is the reversal too easy? Yeah, probably. But I like Sam's storyline anyway for two reasons. First for its truthfulness: forced group showers are, for an underdeveloped teenager like Sam, a primal fear. My high school didn't make the boys shower after gym class, but it did make anyone who stayed after school for sports, which explains why I never joined an intramural sports team (Yes, that and only that, was the reason. My total lack of athletic ability had absolutely nothing to do with it).
Secondly, that Robert Opel moment creates some interesting friction between the shower subplot and a similar storyline in "Tricks and Treats," where Sam staunchly refuses his English teacher's instructions to grow up, tries to hold on to his childhood for one Halloween too many, and winds up with literal egg on his face. In "I'm With the Band," Sam's facing a similar dilemma: Coach Fredericks orders him to shower, and he doesn't want to. After repeated evasions, Sam finally decides to man up and strip down. And what happens? He's humiliated in front of the entire school. In the world of "Freaks and Geeks," teenagers are damned if they do and damned if they don't. Whether they reject the responsibilities of adulthood or acquiesce and accept them, it really makes no difference. Either way, bad things are going to happen.
Lindsay's case is a bit different. For the third episode in a row, the freak side of things becomes a poignant character study: after exploring Kim Kelly and Daniel, Nick gets his time in the spotlight, literally, beneath the multicolored floods and dry ice smoke in his basement drum studio. For the third episode in a row, a freak is also revealed as a bit of a tragedy: for Nick, the sweetest and kindest soul in the "Freaks and Geeks" cast, it's the discovery of the sad fact that his military father intends to throw out his drums and ship him off to the army if he can't maintain a C+ average.
Just as she thought she could help Daniel work hard enough to pass Mr. Kowchevski's class on "Tests and Breasts," Lindsay believes that practice and focus can help Nick become a good enough drummer to turn music into a career. Though Nick is initially flattered and inspired by her confidence, that disastrous audition you mentioned makes him realize the truth: he'll never be good enough to realize his drumming dreams. It's at this moment that Lindsay, acting out pity, I think, more than any real attraction, kisses poor Nick.
Alison, you're right that the surprise and even euphoria of that moment seems to erase an entire episode worth of despair and uncomfortableness. But let's not forget that "I'm With the Band" marks series executive producer Judd Apatow's first appearance as director, and that Apatow's work is often defined by its unique mixture of warm sentimentality and black comedy, not to mention the fact that most of his films are about the way in which male screw-ups like Nick are redeemed through the love of far more stable women like Lindsay. While Lindsay's kiss may be a convenient way for the show to elide Nick's bleak prospects it also turns Nick and Lindsay's story, however briefly, into the prototypical Apatow comedy.
More than any episode so far, "I'm With the Band" is rich with that sort of foreshadowing. Alison, was I alone in thinking of "Forgetting Sarah Marshall" and "Dracula's Lament" during Jason Segel's cold open drum solo? There aren't too many actors that good at playing the awkward, earnest musician.