Cillian Murphy Likely to Join Justin Timberlake in "Im.mortal"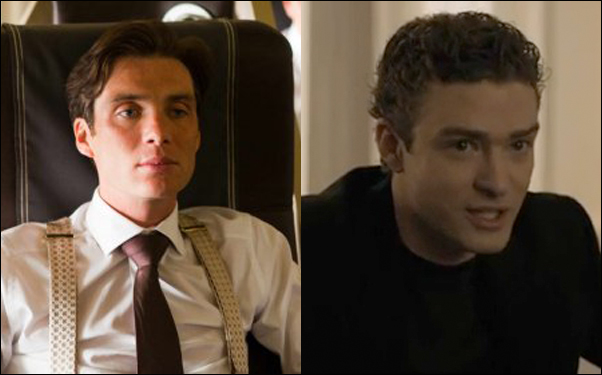 Posted by Brandon Kim on
Whatever you think of his music, Justin Timberlake is becoming a real triple threat. He sings, he dances, he acts. He even directs now, so make that quadruple.
Soon, we'll see Timberlake in the "The Social Network," which he'll follow by trying out sci-fi in "Im.mortal," helmed by "Gattaca" director Andrew Niccol. Reportedly, he'll be joined by the excellent Cillian Murphy, who is in "final negotiations" to co-star.
Murphy has a diversity of roles under his belt, from an Irish Republican Army fighter in "The Wind That Shakes the Barley" to a lovable transgendered lad named Kitten in "Breakfast on Pluto," but he's best known for his sci-fi/action roles in "28 Days Later," "Batman Begins" and now "Inception."

"Im.mortal" takes place somewhere in the near future where the aging gene has been found and switched off. Time becomes the world's currency — the rich can live forever, while everyone else has to fight for their immortality. Timberlake plays a poor bastard who comes into a fortune of time, but is accused of killing a rich man to get it. He goes on the lam, kidnaps a rich girl, and an agent (known as a Timekeeper) played by Murphy, has to track him down.
Murphy's character is described as being "precise as the time he keeps," a quality I can see him delivering on. I asked Murphy once about the kinds of roles he plays and the innate calm that his characters tend to have. He said, "I've always been attracted to… people under pressure, and people in situations of pressure. And they may be normal people or they may be extraordinary people, but it's an interesting study of what happens to a person in that situation." He laughed, "In regards to the calm thing, I don't know. I'd say that people close to me wouldn't use that to describe me."
He and Timberlake would seem to make a strange pair, but I'll go along with it.
Extra photo: Cillian Murphy, "Inception" Warner Bros., 2010.