Nicolas Winding Refn's Rising Star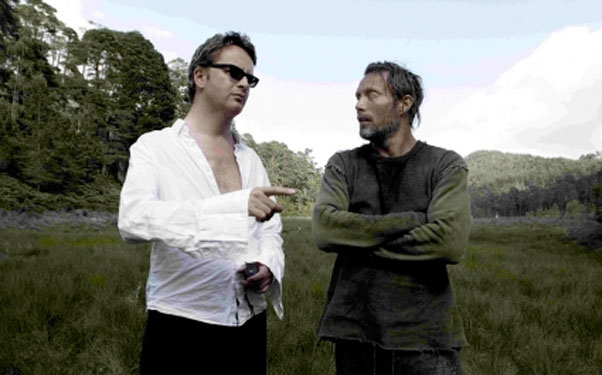 Posted by Bilge Ebiri on
The characters in Nicolas Winding Refn's films remind one of the famous tale of the scorpion and frog. They're trapped by compulsive behavior, often against their better natures. A small-time drug dealer in "Pusher" (1996), the director's breakthrough debut, seems to go further and further into debt the more he tries to pay back a brutal gangster. In "Pusher 3" (2005), that same brutal gangster, trying to find some normalcy in his middle age, is sucked into a whirlpool of harrowing violence. In "Bronson" (2008), real-life British prison inmate Charlie Bronson is constantly on the search for a fight, even though it only results in him becoming even more confined; he fights, therefore he is.
The characters in "Valhalla Rising," the director's new hallucinatory Viking epic, are no different. These warriors cannot shed themselves of the violence, madness and paranoia that define their world. The Danish director responsible for this brutal and haunting body of work is himself something of a compulsive; he has insisted on making very personal and challenging films, even as his profile has risen.
An example: Most foreign directors given a chance at a $20 million English language film with stars would probably temper their flair for structural experimentation. Winding Refn went in the other direction when he made 2003's "Fear X," delivering a baffling, dreamlike thriller that makes "Inland Empire" look like "My Best Friend's Wedding."
That film's failure led the director to return to Denmark and make "Pusher 2" and "Pusher 3," thereby re-starting his career, but he hasn't gone soft: The critically acclaimed "Bronson" was one of the most playful, original, and violent films of last year. "Valhalla Rising," with its mix of medieval tone poetry and unhinged brutality, seems certain to continue the director's reputation as an uncompromising visionary. Winding Refn sat down during a recent New York visit to discuss his new film, his career and his influences.
Sometimes when discussing your films, it's hard not to think about other films. For example, there's obviously a great Scorsese influence in the "Pusher" trilogy. A lot of people were reminded of Derek Jarman and Stanley Kubrick with "Bronson." And in "Valhalla Rising," it's hard not to be reminded of Andrei Tarkovsky's "Stalker." How do you feel about those kinds of comparisons?
There's definitely a lot of "Stalker" in "Valhalla Rising." Any artist who creates does so in light of the experiences they've had with cinema — even if they don't have specific films and directors in mind. The ones that say they don't are lying. The whole evolution of art is to steal: Shakespeare stole everything he could get. Kubrick did, too. So do I. The trick is to make it your own. Most of "Bronson"'s inspiration, for example, came from Kenneth Anger. "Bronson" is basically a combination of "Inauguration of the Pleasure Dome" and "Scorpio Rising." I showed the Anger films to some of the people that were working on the film.
"Valhalla Rising" is a combination of many films from my youth, all the way back to me coming to America when I was eight, and the samurai and kung fu movies I would watch on TV. "Escape from New York," the first video I ever owned. Lots of Spaghetti Westerns. The "El Topo," midnight movie craziness of the '70s: "Stalker," "2001"… even "Dumbo," which was where I had the idea of making my hero silent.
I would've thought the muteness of One-Eye (Mads Mikkelsen) in "Valhalla Rising" came from Spaghetti Westerns. Especially the way that he seems so opaque, so unknowable. You never psychoanalyze him.
Really, it came from my trying to create a sense of myth. You can't explain mythology. People would be, like, "Is that what it's about?" You know, "Zeus had a terrible childhood and that's why he's so angry." It wouldn't work. I feel like if I made One-Eye human, it wouldn't have been very interesting.
"Valhalla Rising" also resists a lot of other conventions. You have a group of disparate men on a journey. Most films would find a way to unite them over the course of the voyage, but instead, they're driven further apart. There's a scene where they all ritualistically imbibe a hallucinogenic, and you'd think they're about to have some kind of collective experience. But no, each one goes off and has his own drug-induced slow-motion freak-out.
Their general wants to believe that they're here for a reason. They can't find the enemy, and he says, "God has brought us here to conquer this place." But they have no army and the men are dying. There's a legend that when Vikings prepared themselves for war they would drink hallucinatory drugs. So the general gives them this liquid, which is supposed to prepare them for the ultimate war, which is of course against themselves. Everything collapses around them. It pulls everything apart.
This film strikes me as something that you must have fought some battles over. Was there pressure on you to make these characters and story more conventional?
I had final cut, and I produced the movie, so I own the movie. I was lucky. I had French financiers who were very supportive, along with the Danish film Institute, Scottish Screen and Joni Sighvatsson, an Icelandic entrepreneur who put up some money.
I recently saw the documentary "Gambler," which is about the period after you made "Fear X" and before you did the final two "Pusher" films, when you were struggling with a lot of debt and uncertainty, as well as a new family.
I still am. You're always grasping for money. It's the constant struggle of compromise. My career has been desperate, to a certain extent. I've been either desperate for financial gain, or desperate at not being good enough, or desperate at not being alternative enough.
When I was younger I was desperate about the way I was perceived. And my films suffered, in a way. "Pusher," "Bleeder" and "Fear X" are kind of a collective nihilistic self-combustion engine that, in the end, just consumes itself. I was so wanting to control everything, even the outcomes, to the point where I just didn't even enjoy it any longer. With "Fear X," I gambled on a film that was completely uncommercial and too expensive.