Exclusive Video premiere: Gil Scott-Heron "I'm New Here."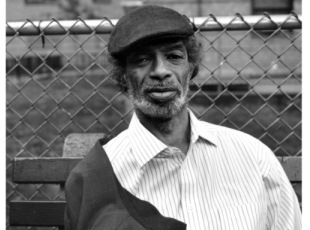 Posted by Brandon Kim on
American musician, author, and old school poet, Gil Scott-Heron made his mark in the early 70's with his radical spoken word performances. He's probably still on a watch list. Think back, "The Revolution Will Not Be Televised," is part of our vernacular now, but it's also Scott-Heron's hard hitting social critique, a scathing indictment of our superficiality and over-consumption (and white suburban indifference). Though the names have changed from 1970, it remains completely relevant.
[Gil Scott-Heron. Photo by Mischa Richter.]
When asked sometime in the 90's if the revolution would now finally be televised Scott-Heron replied, "Well you know the catch phrase, what that was all about, 'the revolution will not be televised,' that was about the fact that, the first change that takes place is in your mind. You have to change your mind first before you change the way you live," he said pointing out the crux of the poem, and indeed the movement of the time. "So when we said that the revolution will not be televised, we were saying that like, the thing that's going to change people, is something that no one will ever be able to capture on film."
British directors Iain Forsyth and Jane Pollard, did capture Gil Scott-Heron though (if not quite on film) in this video for his incredible song "I'm New Here," the title track off his latest record.
I don't know about you but it puts me into the spirit world. It was recorded live in Clinton Recording Studio, New York, where most of the album was recorded and mixed. That's Pat Sullivan, from the band Oakley Hall, on guitar.
Forsyth and Pollard were fresh off of another release of their "Do you love me like I love you" series that accompany the Nick Cave and the Bad Seeds re-releases (each 40 minute film focuses on a specific album, with 7 of 14 now released) when they met up with Scott-Heron and shot this for him.
"Some things should be kept simple; no messing, no gimmicks," they said of the video. "Shot with completely live sound, with half an eye looking back on classic footage of performers like John Lee Hooker and Bob Dylan, we wanted to shoot something bold and direct, that captured something of Gil's remarkable presence and the raw power of his performance. We filmed him the day before walking around his neighborhood in Harlem then on the day we returned with Gil to the studio. There's no narrative here, this is a deliberately simple video for a deceptively simple and beautiful song."
Scott-Heron has had a tumultuous decade, in and out of prison for a possession charge and then violating parole by leaving a rehabilitation center. Ludicrous. Tax dollars going to put away 61 year-old guys for having a party, however ill-advised. If there's a silver lining, it's that it helped inspire new work by this legend.