Cannes Review: "Wall Street: Money Never Sleeps."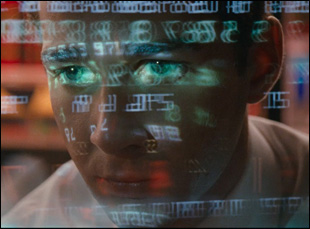 Posted by Anthony Kaufman on
Reviewed at the 2010 Cannes Film Festival.
For at least its first half, Oliver Stone's "Wall Street: Money Never Sleeps" — the sequel to his 1987 original — may be the cinema's best dramatization of the 2008 financial meltdown. With its rapidly cut split-screens and downward spiraling electronic numbers reflecting on the panicked face of its protagonist Jake Moore (Shia LaBeouf), the film captures the fast, frenzied terror of computer-driven economic freefall like nothing else on recent screens.
The digital trickery of such sequences — not to mention some fantastic animated end credits — shows that Stone has embraced the new technologies of filmmaking with innovative panache. Too bad that hackneyed Hollywood melodramatic clichés get in the way of the final result.
At its best, "Money Never Sleeps" takes on the mood of Stone's "JFK." Conspiracy lurks in the air and great actors deliver ominous bits of dialogue: "Are we going under?" asks the innocent Jake, an ambitious trader who watches the world collapse around him. Answers Frank Langella's wizened trader Louis Zabel: "The question is: Who isn't?"
Even octogenarian legend Eli Wallach shows up as an old-school Streeter whistling away at his enemies. For amateur economic-watchers, the film also offers a surprisingly sophisticated account of the instruments of financial collapse, with its talk of subprime mortgages, short-selling and credit default swaps.
But the film falters in its overtly dramatic triangles: Jake's girlfriend-fiancé happens to be the liberal HuffPo-like blogger daughter (Carey Mulligan, cute but underwritten) of Gordon Gekko (Michael Douglas, of course, reprising his mix of charismatic sliminess from any number of recent roles).
While Gekko, recently released from prison, uses Jake to get to his long-estranged daughter, Jake must also contend with a contentious relationship with another mentor figure, Bretton James (Josh Brolin), the head of a rival investment bank. Blink and you'll miss it, but there's one point in which Langella's Zabel appears like an Obi-Wan Kenobi figment, a reminder that Jake Skywalker must resist the temptations of the dark side of Wall Street.
Stone has never been known for subtlety. When he has focused on past political events, such as "JFK" or "Platoon" and "Born on the Fourth of July," impassioned political conviction helped smooth over any emotional excess. But as seen in his last film "W.," his biopic of George W. Bush, Stone is less sure-footed on the contemporary homefront. His real world spaces veer toward the surreal; this must be intentional, as evidenced by some deliberately strange scenes in "Money Never Sleeps" surrounding Bretton's philanthropic efforts. But such moments undermine the emotional truth that Stone clearly wants us to feel for his romantic leads.
Most problematic is the film's final reels. If Stone's central message is that money corrupts relationships, the movie's conclusion indicates that he has ultimately sold his audience short.
"Wall Street: Money Never Sleeps" will be released by 20th Century Fox on September 24th.
[Photos: "Wall Street: Money Never Sleeps," 20th Century Fox, 2010]