Not All Tomboys Are Created Equal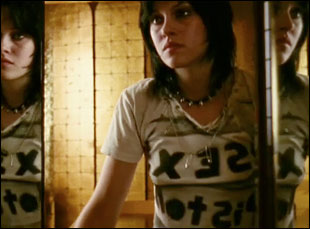 Posted by Lisa Rosman on
Anyone who believes progress is linear need only look at the history of women on film — especially the tomboy. Fierce and independent, the tomboy has always proved an ideal symbol of female power, a term I can scarcely invoke for fear of sounding outré these days. Whether gay or straight, she's the kind of girl who pursues her passions with nary a
thought about how pretty she looks while doing so. It's not that she doesn't care about anything; she cares a lot. She just doesn't give a fuck about what others think of her. It's hardly surprising that US cinema hasn't always known how to handle her.
Take the intrepid Jo March, of Louisa May Alcott's novel "Little Women." In George Cukor's 1933 film adaptation, she was portrayed by Great Kate Hepburn in a nearly perfect feat of casting. Only 16 years later, toothless June Allyson watered her down shamefully, but it was Winona Ryder — smack-dab in the Riot-Grrrl '90s, even — who turned in the worst Jo yet, simpering each line of dialogue as if it were a tremulous question.
Perhaps progress is linear, after all — in the sense that it is a linear devolution, at least in US film. What else could explain "The Runaways," about the girls rock group that gave Joan Jett her start? Biopics, especially music biopics, always prove a thorny endeavor; either they stray too far from actual facts or kowtow to the weak dramatic arc of actual human lives. But "The Runaways" fails entirely on its own terms, mostly because it dishonors the tomboy, the very concept that should live at its core.
Once again, part of the problem lies in the casting. Based on contemporary American cinema, you'd think there were no badass women alive under the age of 50. (Thank G-d for the Susan Sarandons of this world.) "Arrested Development"'s Alia Swawkat, she of the perfect timing, is wasted in the criminally underwritten character of fictional bandmate Robin. The gimmick of former child star Dakota Fanning as hopped-up, sexed-up lead singer Cherie proffers nothing save some rubbernecking appeal.
But it's Kristen Stewart ("Twilight"'s antifeminist heroine Bella Swan) as Joan Jett who is most wildly miscast. Shifting nervously from side to side, she mumbles her dialogue with less teen-rebel disdain than a general lack of fortitude. While belting out a song lyric, she actually rolls her eyes, as if embarrassed by her own stridency. Although the physical resemblance between the two is uncanny, it's easier to place the ever-passive Stewart as a groupie than as the unflinching groundbreaker Jett has been for 35 years now. O Lady Joan, how has she forsaken thee?
But it's too simple to lay all the blame at the actress' feet. As band manager Kim, Michael Shannon is wonderfully, manically grim, but he's sinking his fangs into the only well-written role in the film. "The Runaways" is hobbled by a lousy script and lousier direction, both by Floria Sigismondi, who seems too invested in her earlier incarnation
as a photographer. Actual plot development is supplanted by montages shot at funny angles, sometimes underwater. Characters drift along and then suddenly explode into an unearned hyperdrive, in which they break guitars and hoover coke in airplane bathrooms.
Worse, without warning they sometimes break out of their verbal torpor to lapse into bumperstickerese: "It's about the music, not your crotch." "This isn't about women's lib, this is about women's libido." And even though this film finally outs Jett once and all (unconfirmed rumors of her lesbianism have followed her since the '70s), her sexual dalliances are captured in such mealymouthed, fun-house blurs that her queerness seems more a fashion choice than an earnest compulsion.
Many may be inclined toward this film solely because of the novelty of women playing rock and roll in such pitch-perfect costumes. But I find it the worst kind of form over function, in which all involved seem to have forgotten that the aesthetic rebellions of the time stemmed from a deeper defiance of the status quo. None of these girls hint at any interior lives, so all they can do is aim to please no matter how hardened their façade. They are objects rather than subjects, even to themselves. And you can't get less punk than that.