Chris Morris and the Roar of "Four Lions"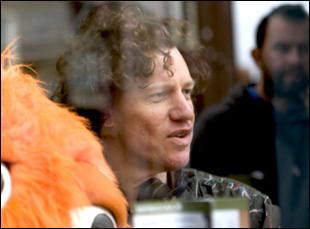 Posted by Bilge Ebiri on
A guy who fought with the Mujahideen against the Russians, who's now 40-something, told me that the only way he could understand someone wanting to blow up a busload of civilians in a country where there was no turf war being fought is that they're living a very abstracted form of existence, which is very modern. They can place themselves somewhere thousands of miles away, and then harden themselves as if they're somewhere they aren't. It's the dream of being a soldier. That romantic notion is very important. But this film is not a guidebook to jihadi motivation. It reflects some of the realities one encounters.
I spoke to a guy who fought with the Taliban against the Northern Alliance — which is an interesting moral quandary, because the Taliban are obviously "bad" — but he told me, "When you come across a farm that's been massacred by General Dostum's people, the whole family eviscerated and the grandmother left sobbing in a chair, then you know you're on the right side, because you're against the people who did that." It blows your sense of right and wrong. He left that world long ago, but he talked about that band of brothers feeling, almost like a fratboy with a gun in his hand.
Can you discuss the character of Omar's wife? She seems like the scariest character in the film, in a way. In one scene, she's progressive, fun-loving, etc. and then in another, she's totally behind the idea of her husband blowing himself up and killing tons of people.
The non-comic, factual explanation is that I felt there was a myth about terrorist bombers being medieval-minded, "fundamentalist, primitivist" people. There seems to be a lot of evidence to contradict that, especially in Britain. Some of the ideology behind what has become modern jihadism was socially progressive, certainly in Egypt, for example.
When we see Omar's brother, he's the one who insists that women be in separate rooms — but he's also the one who's not a terrorist. The character of the wife is deliberately given not much space, but I wanted to show that someone like Omar would need support. There was a video recorded by one of the London bombers back when he thought he was going to Afghanistan, where he was certain to wind up dead, and he'd recorded the video with his nine-month-old daughter in his lap, explaining why he'd gone. He thought he was going to fight the good fight, and wanted to make sure she knew that when she was older and could understand. Obviously, I haven't hung out much with a family that's plotting this kind of thing, but that was an imaginative leap where the wife would be included in the discourse.
What was the response of the Muslims you interviewed to the fact that you were making such a film?
Weirdly, the common response was: "Oh great, about time, bring it on." Which I wasn't expecting. I remember when we were making the film, we had to shoot in a halal kebab shop. The owners asked to be there while we were filming, and I told them they could. But we eventually had to remove them from the room, because they were laughing too hard. Muslims in Britain like the idea that a lighter note might be introduced into the discourse. That's not why I made the film, but I was surprised to find that was their general response. Maybe it's cause I was mostly talking to younger people. The older ones might take a more dim view of some of this stuff.
"Four Lions" does not yet have U.S. distribution.