Are you ready for 20,000 spoonfuls of terror?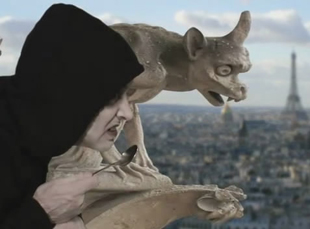 Posted by Vadim Rizov on
In the pre-YouTube era, it was generally assumed that a short film was a director's calling card, a stepping stone to prove that talent and resourcefulness lay within and that great things could be obtained with a real budget.
These days more people seem to be interested in watching YouTube videos than committing to a feature anyway — hence the success of Richard Gale's "The Horribly Slow Murderer With the Extremely Inefficient Weapon." The weapon is a spoon, and the short's a fake trailer that promises a nine-hour spectacle of one tormented soul being repeatedly rapped all over his body with it.
Gale, a veteran of LA's cable TV scene, previously directed a few straight-to-video thrillers. But now, according to Twitch's Todd Brown,, Gale's been omnipresent at various genre, shorts and standard festivals worldwide, "screening this film to packed houses and — more often than not — collecting a nice piece of hardware in the form of audience and critics awards when things wrap up." In response to constant camcorder bootlegs, Gale's put the short up on YouTube:
It's an all-purpose spoof: there's a mystical Oriental fortune-teller who predicts doom for our hero, the girlfriend who walks out in disbelief, the white make-upped sadistic freak, and so on. At ten minutes, it just about sustains its joke: the laugh factor is variable (this post's title is one of the better lines), but there are a few great meta-trailer gags and an approach to globe-hopping that's as good as a walk around Vegas casinos.
Back in March, Gale said he planned for the upcoming DVD release to include "a full 90-minute 'excerpt' from the 9-hour feature." In other words, "Horribly Slow Murderer" would really become a movie, if not quite the one promised (thank god). Maybe shooting an aspirational trailer for the full-length feature you'd like to make is the new short film.
[Photo: "The Horribly Slow Murderer With the Extremely Inefficient Weapon," Chaos Rampage American Pictures, 2008.]